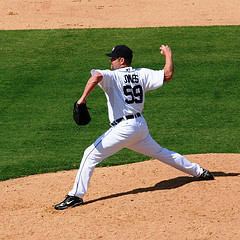 Todd Jones pitches a 1-2-3 inning against the Braves
Credit Roger DeWitt
That would be spots available in the seven man bullpen. Jim Leyland ended some of the speculation today by announcing that Todd Jones, Bobby Seay, Tim Byrdak, Jason Grilli, and Zach Miner were locks. The ambiguity now surrounds Fernando Rodney and his health. A healthy Rodney would of course be a part of the plan, but that seems unlikely at this point.
Of the aforementioned locks, the first 3 weren't a mystery in the least. Grilli was also fairly assured of a spot because he's a Leyland favorite. But Zach Miner wasn't a given in my mind. Not that Miner isn't deserving, but that his option status afforded the team some flexibility that Denny Bautista, Yorman Bazardo, and Francisco Cruceta couldn't. And while it would really be a blow for Miner to go to Toledo, there's a very strong likelihood that injury or ineffectiveness would lead to a call-up at some point.
Given that Cruceta hasn't even made it into the country yet, he of course has to be considered a very long shot at this point. However, his visa struggles could play to the Tigers advantage in that he could probably clear waivers while MIA.
With Rodney likely to start the year on the DL, it will give the Tigers a chance to take an extended look at Bautista and Bazardo. Neither could be sent to the minors without clearing waivers. Officially Preston Larrison and Aquilino Lopez are still in the mix, as is Freddy Dolsi. But it wouldn't make practical sense to take them at the expense of risking the loss of some valuable bullpen depth.
Other stuff