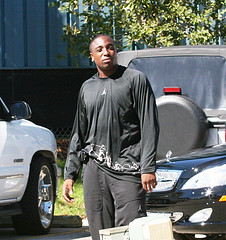 credit Roger DeWitt
While today was officially "Pitchers and Catchers report" day, it was just that. Reporting day. The official workouts don't begin until tomorrow. Still, the players and beat writers are all in town so the stream of news has started to flow.
The links to the stories are below with my comments to follow:
Beck's Blog: Happy Reporting Day
Det News: Leyland – Strong possibility Inge will get traded
Det News: Tigers catchers Wilson aims for mid-March return
Opening Day starter
It's the first-ish day of spring training so of course it is time to find out who the Opening Day starter will be. Leyland is leaning towards Justin Verlander which really is who it has to be isn't? I don't think there's much mystery that the rotation will be Verlander-Rogers-Bonderman-Willis-Robertson. Rogers will be sandwiched between the two righties and Willis and Robertson will fill out the 4 and 5 spots.

Inge
I guess the news element here is that Leyland used the phrase "strong possibility" when discussing the likelihood of an Inge trade. Is there something in the works? Is this just trying to get other teams more motivated to deal? Is it nothing more than the manager suggesting that the Tigers are still trying to meet Inge's wishes? I'd say it's probably the latter. I still say that if Inge is on board with catching the Tigers should hang on to him with an eye towards him manning the plate in 2009
Injury Updates
Earlier this offseason it sounded as if the Tigers would need Inge to start the season as the primary back-up. But Vance Wilson seems to be progressing well now and could be ready in time for the start of the season. Things could get hairy with the bench, but I'll take that over having positions in the starting 9 having to be won this spring.
Also, the news is good on the Gary Sheffield front because he is swinging pain free. He's limited in his throwing for now, but for the designated hitter that is as minimal a concern as there can be.
First hand accounts
The Lakeland Flying Tigers Blog will have folks on site each day so check frequently for new pics, stories, and videos (plus they have a new URL). Also, Dontrelle Willis blogged his arrival day and Curtis Granderson has his first blog entry of the season up at ESPN.