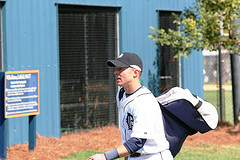 credit Roger DeWitt
The first day of official workouts. Now we're rolling.
Link round up
Catching up with Inge – Detroit Tigers Insider – MLive.com
A TALE OF TWO CATCHERS
Jim Leyland addresses Brandon Inge's future with Tigers
Leyland isn't concerned about lineup, is concerned about bullpen
The Official Site of The Detroit Tigers: News: Notes: Porcello gets first taste
Inge on Inge and Leyland on Inge
In an effort to move things along and avoid having everyone answer the same questions over and over again, Jim Leyland and Brandon Inge held a mini-presser. The main message wasn't anything new. Everybody wants Inge to be traded. It may or may not happen. Inge just wants to start and he won't be a cancer. Leyland also stated that Vance Wilson's progress wouldn't be a factor in Inge being moved.
The most interesting quote though came from the Freep article.
"I went to work on my swing this off-season," Inge said. "My swing was a little long. Cutting down strikeouts is crucial."
Glad to hear some self awareness.
Remember when PFP was a big deal?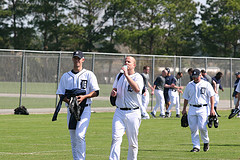 In non-Inge news the Tigers have some pitchers in camp as well. The first day of workouts means PFP, which was a circus last year.
Rick Porcello was put into Kenny Rogers pitchers-fielding-practice group, and it probably wasn't by accident. Porcello marveled at Rogers, then again Porcello was probably marveling at quite a bit. He's not even a full year removed from high school. Most of his friends are making spring break plans while Porcello went south to work out with a major league club.
The bullpen
Leyland is concerned about the bullpen and realizes how important talent evaluation will be this spring
"We have to do a better job than ever of projecting what a guy is going to do (in the regular season). We have to find out everything we can about their personalities and their understanding of what is going on."
While normally there is quite a bit of flexibility in making some of these bullpen decisions, the option status of many of the candidates means that at least one player will be cut loose. And nobody wants to see the wrong guy jettisoned.
One of those guys in contention, Francisco Cruceta is a late arrival. He's having visa issues getting into the country.