The beats were busy with the first official workout of the spring. Seriously, multiple stories and blog posts throughout the day, even a live blog from Morosi. A quick rundown of the stories from Tiger Town…
Rick Knapp
After 20+ years in the minors, this was Rick Knapp's first day as a big leaguer. This got a fair amount of attention and Jim Leyland was pretty excited for him.
"This is huge for him," Leyland said of Knapp. "All those years in the minors, and now this is his first day in the big leagues. It's one of the most exciting parts of our first day of camp, to be honest with you.
I'm a fan of the Knapp hiring and am I excited to see what he can do. But Chuck Hernandez looked to be a genius in 2006 before he suddenly forgot how to coach (that's sarcasm). I do like that he doesn't seem to have a specific pitch or philosophy (other than throwing strikes) and instead tailors the message to the individual. For Zumaya it is an emphasis on long toss and a change-up.
Dontrelle Willis
Part of Knapp's plan for Willis is for just to be himself (the successful self from his days with the Marlins, not last year's version). The early reports are positive, but it is only day 1. Part of that is due to improved conditioning that has him five pounds lighter.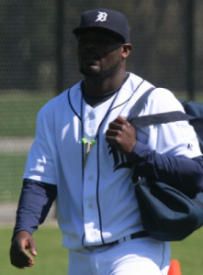 Willis, along with Robertson and Miner are all in the mix for the 5th starter spot. It has led Henning to once again speculate a trade could be coming. There are obstacles in the way of course, like those big honkin' contracts that don't mesh with the 08 seasons for Willis and Robertston. But… I've heard similar rumblings. That's not to say they'll come to fruition, but I don't think Henning is off base with this. The Tigers rotation, while not as strong at the top, matches up well with the rest of the division looking 1-5 (or 6 or 7).
Zumaya and Rodney
Joel Zumaya is trying to gain weight and get back into his 2006 form. Whatever it takes is okay by me. Meanwhile Fernando Rodney is sporting an alligator tooth around his neck. It came from an alligator that was wrestled in a river. Supposedly.