Brandon Inge might have been misquoted…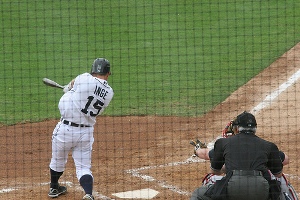 Inge connects for RBI Triple. credit TheCouga
Yes. It's another Brandon Inge story. Inge may yet be the Tigers back-up catcher when the season begins because it became clear today that Vance Wilson won't be ready. And backpedaling from his Sunday statements that rose the ire of many (including your local blogger), Inge is amenable to catching.
He told Danny Knobler today that he regretted how his comments about catching sounded. He also said he had no problem catching.
Jason Beck follows with a report from a radio appearance by Al Avila. Beck had this quote from Avila:
"Brandon came in actually today and talked to Jim [Leyland]. He felt that he was misquoted in the newspaper, things were taken out of context and he actually came in today and said that he's willing to catch. From his point of view today, he's expressing that the way that things that were written weren't exactly the way he expressed it, he was just frustrated that one game but if he's going to be with the Tigers he'll be happy. At this point you can count on Brandon Inge being a Detroit Tiger and he'll catch when we need him."
Considering that multiple reporters came with the same quotes makes me think he was accurately quoted. As for the comments being out of context, I don't really know what the context could have been. However the text may have not captured the sentiment. Without hearing it there's no way to know either way. But it does seem consistent that he was speaking at the peak of frustration. At least their is recognition on Inge's part that what he said wasn't good.
Regardless, the money part of the quote comes at the end when Avila declares we "can count on" Inge as a Tiger. Is the trade pursuit over or is it simply that fans should count on him not to complain?