Game 2015.44: Astros at Tigers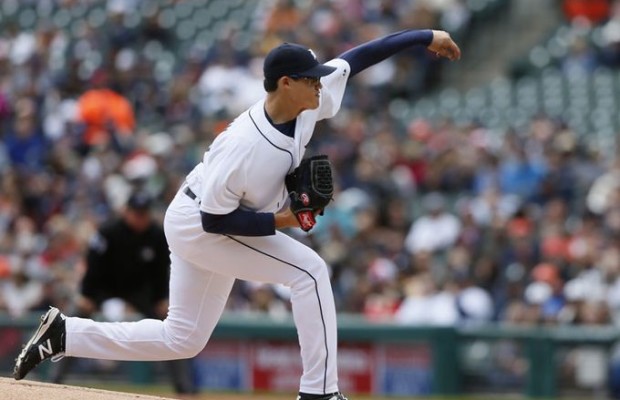 Good win last night. Check that, great win. The Tigers got another outstanding start from Simon – 7 IP, 4 H, 1 BB, 5 K, 0 ER, JD Martinez hit a 3 run bomb (how many of those have there been this year?, and the bullpen went 6 up and 6 down. JD Martinez is now hitting .405 over his last 10 games with 15 hits, 2 HR and 5 RBI. Whatever funk he was in, he's out.
So the Tigers are now in a great position to win a long series against the hottest team in the AL. Still got two games to go, but feels good for now.
Lobstein draws a rookie call-up, Lance McCullers today. McCullers made his big league debut on Monday striking in 4 2/3 while allowing 1 ER. Traditionally, the Tigers haven't seemed to fare well against rookie call-up guy, and Lobstein has been struggling, so today could be tough.
I saw some chatter on here regarding the Tigers hitting in key situations. I want to make sure that we're all on the same page here. The Tigers are one of the best offensive teams in the Majors. They have the Majors' 2nd best OPS (.774) and 2nd best avg (.280). With RISP – the team OPS goes up to .812, 7th in the Majors. In R3L20 situations their OPS jumps to .873, which is only 12th in the Majors, but I'll take .873 all day long. Look, baseball hitters are going to fail the VAST majority of the time. Even if we're adding OBP + productive outs, there will still be very few guys who get the job done more than 1/2 the time. 95%+ of hitters are going to fail more than half of the time. This is simply the game. We can't get worked up of we fail to score in every scoring situation. The boys are doing just fine.
Now what is curious is that the Tigers have the best OBP in the Majors (.346), the 2nd best OPS (see above), the third most ABs in the Majors, yet are 5th in runs. This doesn't match-up with their overall team hitting prowess. The Tigers' 190 runs scored this season is 36 behind the league leading Toronto Blue Jays. I would guess that if the Tigers had scored just 10 more runs they would have three more wins. (Now, this flies in the face of their Pythagorean X W-L which would suggest that they have been lucky, but I think it's a sample size issue as I noted a few days ago). So why aren't they driving in more runs? They really should be considering they are getting on base so frequently and hitting so well.
I think there is one direct cause – Victor Martinez, ,more specifically, where he bats in the lineup.  Here is the Tigers offensive rank by lineup position (using OPS)
1. 4
2. 7
3. 1
4. 27
5. 9
6. 6
7. 17
8. 13
9. 19
So, which one of the above is not like the others?
And of course, the 4th spot is maybe the worst to be so bad because of all the run scoring opportunities. The Tigers still have middle of the pack run production from the 4 hole (23 RBI – 15th in the Majors), but that just demonstrates how many opportunities there have been.
The indirect cause is Brad Ausmus – and his insistence on sticking with VMart for so long, but a young manager against an established vet, I get it. VMart is a professional hitter and he's going to come back and hit. But his bat, or lack thereof, has cost this team several runs in 2015, and likely a few wins.
In other news…is anyone noticing what Prince Fielder is doing right now? Good for him.
Baseball Reference Game Preview here.
1. Anthony Gose, CF
2. Ian Kinsler, 2B
3. Miguel Cabrera, 1B
4. J.D. Martinez, RF
5. Yoenis Cespedes, LF
6. Nick Castellanos, 3B
7. Tyler Collins, DH
8. James McCann, C
9. Jose Iglesias, SS