Game 2015.28: Tigers at White Sox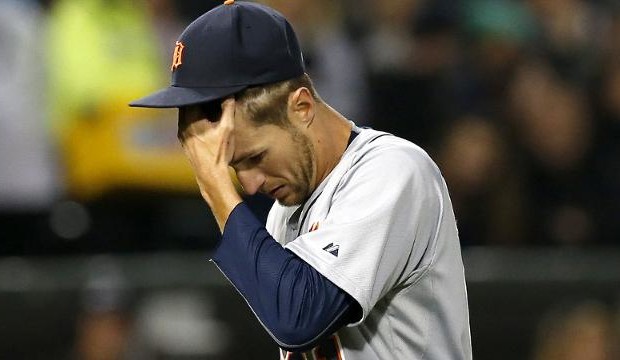 The Tigers wasted a chance to jump on a struggling White Sox team last night, as a leadoff run and a fielder-assisted home run by Alex Avila was all the offense they could muster. Shane Greene struggled again, but the bullpen picked him up with 5 sharp scoreless innings; however, the Tigers never really offered a threat. They say hitting is contagious; apparently slumping is also, and the infectious zone is the middle of the lineup: the 3–6 hitters were a combined 0-for-15.
Which brings us to Victor Martinez, the leader of the slump-pack. Actually "slump" is a bad word for where Victor is at right now, he's just not able to drive the ball, and it doesn't seem to be getting better. I know the poor guy is trying his best out there, but hey, I'm trying my best to write a good post today and still this is all you get.
I mentioned a week or so ago that Victor Martinez was the worst #4 hitter in the league, and it's gotten worse, to the point where he is now pushing for League's Least Valuable Player:  going by WAR, Victor is more valuable than all of *2* players in the entire American League, Rene Rivera on the Rays, and Matt Joyce on LA (Matt Joyce? How'd that happen?). I know it's early to be looking at WAR, but I'd be shocked if Victor's is any better at the end of the month.
So what to do? One solution would be to at least get him out of the 4th spot. Replacing him is harder now that JD is in a huge slump, but I'd go with Cespedes. It doesn't matter though; moving a guy like Victor to the bottom of the order is never going to happen, too many Respect issues involved. Which leaves giving him an extended rest, and replacing him at DH (I'd go with Rajai or even Romine, and make it a speed lineup). Victor doesn't want the rest though, and in fact says he needs the at bats. And those that know these things say 15 days off isn't going to help his knee much anyway. So we are where we are.
The Tigers went through this with Victor in 2013 also, when he was coming back from a previous injury. He stood out a bit less then, batting 5th between Prince Fielder and a hot Jhonny Peralta, but as of June 30, 2013, he was hitting .232 with a .627 OPS, which beats this season's .203 /.531, but still isn't acceptable DH work. The second half of the season he hit .361 with a .940 OPS, including a ridiculous .390 in July. So I guess the plan is to just suck it up and hope history repeats itself.
In other news, Green means go!!! Thus tweets Justin Verlander, who has begun throwing again, and it sounds like he can't wait to get back to it. And speaking of getting back to it, earning a promotion to Toledo is none other than Ryan Perry, who last appeared in a MLB game in 2012.
Today's Can Victor Stay Above the Inge Line? Lineup:

Rajai Davis, CF
Ian Kinsler, 2B
Miguel Cabrera, 1B
Victor Martinez, DH
Yoenis Cespedes, LF
JD Martinez, RF
Nick Castellanos, 3B
James McCann C
Jose Iglesias, SS
Jose has loosened up groin-wise, and returns, as the struggling JD Martinez slides down a spot in the lineup. McCann takes over for the hot bat of Alex Avila with a lefty on the mound.