We would never have marched so far to be food… food… for an Oriole?
So the Detroit Tigers will finish their season 72% of who they were to begin with:
SP Scherzer
SP Verlander
SP Price
SP Porcello
RP Sanchez
RP Nathan
RP Chamberlain
RP Soria
RP Alburquerque
RP Coke
RP Lobstein
C Avila
C Holaday
1B-DH Cabrera
2B Kinsler
SS Suarez
3B Castellanos
IF Romine
IF Perez
IF-OF Kelly
LF J. Martinez
CF-LF Davis
RF Hunter
OF Carrera
DH-1B V. Martinez
Detroit goes into the ALDS with a couple dark clouds overhead. The old one is the ever-shaky bullpen. Being able to include starter Anibal Sanchez in it seems like a curse (his late-season injury) turned into a blessing. The new one is the health of Rajai Davis, who is far from 100% with a pelvic strain. The decision to stick with Davis on a day to day basis tips the balance in favor of 14 position players and Hernan Perez as 25th man rather than Tyler Collins or Steven Moya. Blaine Hardy's late season struggles, along with Sanchez's inclusion and Kyle Lobstein's utility as both lefty and long man, make him the odd man out on the 11-man staff.
So Detroit heads to Baltimore and the madhouse of an Orioles Park filled with screaming throngs of orange…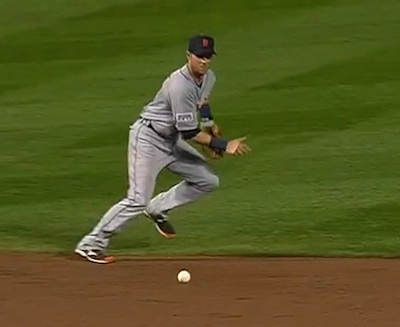 Game 1: Scherzer v. Tillman. ORIOLES 12, Tigers 3. Never ahead, down 9.
NICE PLAYS: CASTELLANOS-CABRERA, LF J. MARTINEZ-KINSLER, SS Hardy-1B Pearce, J. MARTINEZ-AVILA, ROMINE-CABRERA, CF DAVIS
MISPLAYS: ROMINE, CASTELLANOS, AVILA
BASERUNNING NEWS: The Orioles were certainly more dynamic, in part because they had more opportunities to be. Not much in the way of SB attempts for either side, but the Jones swipe of 2B in the 8th did play a part in changing the complexion of that inning. Aggressive at precisely the wrong moment, Detroit was badly burned in the 8th by KINSLER taking off on the 2-2 pitch to HUNTER that resulted in the lineout (to SS) double play. Next up, CABRERA hits a home run. Ay yi yi.
THE BIG HIT: Man on 3rd, 2 out, 0-0 in the first, Cruz 2-run HR off SCHERZER.
THE BIG OUT: Bases loaded, 2 out, Tigers down 3-2 in the 5th, Tillman retires HUNTER on a groundout to SS, force at 2B.
GOOD HITTING: Cruz, De Aza, Schoop
BAD HITTING: HUNTER
GOOD PITCHING: Miller
BAD PITCHING: CHAMBERLAIN, SORIA, COKE
OBVIOUSLY: You had the feeling they were going to pull it out, right up to that 8th inning sucker punch to the gut.
AND, BUT, ALSO: Although SCHERZER would strut some stuff later, he was not sharp early, while Tillman most assuredly was (5 K through 2). Back to back jacks by the MARTINEZ brothers took the crowd out of it, but only briefly, because SCHERZER was unable to shut the door at this opportune moment. The Tigers did make Tillman work and hasten his exit; KINSLER alone saw 30 pitches. Miller the ex-Tiger was instrumental in keeping the Tigers on ice. Detroit made almost every standout defensive play – CASTELLANOS-CABRERA made a brilliant play on a good bunt, and J. MARTINEZ-KINSLER killed a Pearce double – and yet the few misplays were devastating. It doesn't exonerate the bullpen, but ROMINE's bungling of a playable groundball and CASTELLANOS's inability to handle a perfectly good throw from DAVIS (who was charged with the error, ridiculously) played a sizable part in the 8th inning nightmare. Still, more than anything, the Tigers pitching was not up to the task, and that includes SCHERZER and his gopher balls.
Max Scherzer:  "Just frustrated with how I pitched tonight. Walking off the mound, just felt like I didn't quite do my job to the fullest. You've got to bring your 'A' game here in these situations every single time you step on the mound in a playoff game. Even though I was fully prepared to face their lineup, I just didn't feel like I executed pitches at the highest level I could, and that's the frustrating part." *** Brad Ausmus: "It's a team effort, and in baseball, team effort is if someone makes an error, you hope the pitcher picks 'em up. If a pitcher struggles, you hope the lineup picks him up. Tonight, we just didn't get it done. It's as simple as that." *** The Nelson Cruz HR was his 7th career vs. Detroit in the postseason alone.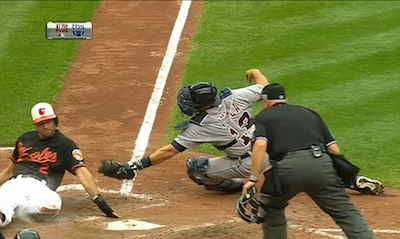 Game 2: Verlander v. Chen. ORIOLES 7, Tigers 6. Up 3, down 1.
NICE PLAYS: P Chen, 3B Flaherty-2B Schoop-1B Pearce, CABRERA-SANCHEZ, ROMINE-CABRERA, CF Jones-Schoop-C Joseph, LF J. MARTINEZ-KINSLER-AVILA
MISPLAYS: CF CARRERA
BASERUNNING NEWS: It was nice to see CARRERA come in for DAVIS and steal 2B just as well, and it could have made a difference, but again Baltimore just does better on the bases, case in point being Hardy scoring the winning run from 1B while CABRERA was thrown out trying to do the same (and much less advisedly).
THE BIG HIT: Bases loaded, 1 out, Tigers up 6-4 in the 8th, Young 3-run triple off SORIA.
THE BIG OUT: Runners on 1st and 2nd, none out, Tigers up 5-3 in the 8th, V. MARTINEZ doubles off Gausman to score HUNTER, but CABRERA is thrown out at home (Jones-Schoop-Joseph) trying to score from 1B.
GOOD HITTING: Young, Markakis
BAD HITTING:
GOOD PITCHING: Gausman, SANCHEZ
BAD PITCHING: Chen, CHAMBERLAIN, SORIA
OBVIOUSLY: Unbelievable. This one was in the bag! Unbelievable.
AND, BUT, ALSO: Detroit starts to whale on Chen in the 4th, 4 batters, 4 runs, and once again back to back jacks, J. MARTINEZ and CASTELLANOS going oppo big-time. But in comes Gausman, and out go the lights – for a while. VERLANDER holds the line but can only last 5+. SANCHEZ comes in and allows nothing out of the infield (nor any hits) for 2 innings. The Tigers get to Gausman at last, but a bigger inning is stunted by CABRERA needlessly running into an out. (A fair measure of Gausman's good pitching was *great* Baltimore defense behind him.) We are astonished to see SANCHEZ leave the game and then livid to see CHAMBERLAIN and SORIA replay yesterday's bullpen meltdown. The come-from-behind hope for the Detroit 9th is represented by PEREZ-ROMINE-SUAREZ. There is no unexpected magic.
Ausmus on the whole 8th inning debacle: "I don't know that I necessarily have an answer for that, but if we have a lead in the eighth inning on Sunday, we're going to have to find somebody… When you have a three-run lead going into the last couple innings, you feel like you should get the job done. But we didn't." On removing Anibal Sanchez with a pitch count limit in mind: "It's more about [Sanchez] not being stretched out. He was hurt — what was he out? six weeks? — and he threw one inning [plus] one simulated game." *** Rajai Davis had to come out of the game in the 4th, having hit a double that he had to settle for a single on when his injury tightened up. *** For the second game in a row, another ex-Tiger (this time Delmon Young) plays a heroic role. *** Nelson Cruz: "They are a great team. They have a good lineup and pretty good starting pitchers. So, the main thing for us is to stay focused and hopefully in late innings like today we can do damage." *** Joba Chamberlain: "This one's on me. If I don't put us in that situation, Soria doesn't have to come into that situation. Obviously, this one's on me and I'll wear it." *** The Tigers head into Game 3 facing 5 in 44 odds of a happy ending to this ALDS.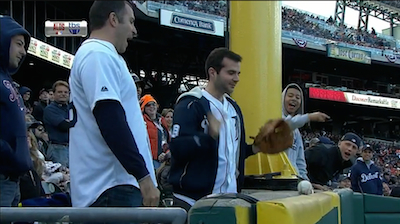 Game 3: Norris v. Price. Orioles 2, TIGERS 1. Never ahead, down 2.
NICE PLAYS: KINSLER, KELLY, KINSLER-ROMINE, HOLADAY, PRICE-CABRERA
MISPLAYS: CASTELLANOS, KINSLER, LF Lough, C Hundley, 2B Schoop, SS Hardy-Schoop
BASERUNNING NEWS: Some great small ball in the 2nd with AVILA tagging to take 3rd and ROMINE almost nearly almost squeezing him in with a bunt. The Schoop SB was another very, very close play – hard to ask for a better throw by HOLADAY, ROMINE maybe a tad slow with the tag. The strange play of the game was where KELLY got caught too far off 2B on the HUNTER grounder to SS Hardy. KELLY was clearly out and didn't help by hitting the deck far off the bag… except that Schoop dropped the ball and then blatantly interfered (think football tackle) with KELLY while recovering the ball and tagging KELLY again. AUSMUS came out to discuss, but it was a non-reviewable judgment call where the umpires clearly failed. Did it make a difference in the scoring? Maybe. PRICE's pickoff of Cruz in the 8th was some small measure of revenge.
THE BIG HIT: Man on 1st, 1 out, 0-0 in the 6th, Cruz 2-run HR off PRICE.
THE BIG OUTS: Men on 1st and 2nd, 1 out, Tigers down 2-1 in the 9th, Britton retires PEREZ on a 5-4-3 DP.
GOOD HITTING: Cruz
BAD HITTING: KINSLER
GOOD PITCHING: Norris, PRICE
BAD PITCHING:
OBVIOUSLY: The offense chooses this as their day off, and the season flies away on the wings of a home run that was barely more than a long foul ball.
AND, BUT, ALSO: Despite the strong outing from Norris, Detroit didn't go down quite as quietly as it appears. While PRICE was cruising (no unfortunate pun intended), the Tigers were within an eyelash of a run in the 2nd and had Norris on the ropes in the 3rd. The 9th inning last chance was exciting, and much too much is made of PEREZ grounding into the double play (which is something HUNTER, CABRERA, and V. MARTINEZ have been known to do.) V. MARTINEZ was, in fact, both big out and big hit, popping out to strand men at 2nd and 3rd, then doubling and scoring the Tigers only run. Gutsy call by AUSMUS and great bunt by ROMINE on the suicide squeeze in the 2nd. ROMINE was out by a mere eyelash and it was well worth the challenge. KELLY had a fine game filling in for DAVIS in CF (he was 3 of 9 total Detroit baserunners), the only caveat being the baserunning mistake. NATHAN pitched the 9th like a closer, and for the second time in three games, the Tigers were the better defenders. Despite a 1-7 RISP, the loss ending the season was less crushing than the two preceding it.
Ausmus: "It's disappointing. You feel like you let the fans down and you feel like you let the organization down. You feel like you let [ownership] down. So it's disappointing, no question. But there is nothing we can do about it now…  Norris pitched outstanding. I don't know if our right-handers got a hit off him. To me, that was it." *** Torii Hunter: "I still don't understand how [Cruz] hit that ball out." *** Scherzer: "We got beat. No other way to say it. We got outplayed in this series in every facet. It's frustrating. I know how talented this group is. I'm not trying to take anything away from what they did. They outplayed us. They're a great ballclub." *** Alex Avila suffers a concussion (a lot of that going on over the past month) from a foul tip to the mask and comes out in the 6th.
---
So there you have it.
The Tigers put on their 93-player* (48 players during the regular season, including 13 making their MLB debut), 192-game, 7+ month show, and it was a good show. Having experienced it twice, I can tell you that the only truly disappointing thing about it was how it ended. But that's how it goes for 90% of the top 10 teams in baseball every year now, doesn't it?
*I was amazed to discover how many players had made Spring Training appearances.
The 2014 Detroit Tigers were a very good team, at least as good as any of the Leyland teams. What kept them from greatness, besides the Baltimore Orioles and chance (a lot of that in baseball, a lot of overlap between lucky and good)? You decide. While the post-2014 departures and arrivals are already well underway, it remains a relevant question. 2014 is the starting point for all the speculation about 2015.
If you feel the Tigers let you down overall during 2014 and wanted some examples to point to, look no further than the season series against the Minnesota Twins, Toronto Blue Jays, and Seattle Mariners. 12-19 only hints at it. For whatever reason, everything wrong with Detroit seemed to come to the fore against these teams.
If, on the other hand, you (like me) have a more positive take on this past season, have another look at some of the great wins (I've highlighted the best for each inning, though in keeping with my true nature, i haven't neglected to also highlight the most aggravating losses).
A tip of the cap to Jason Beck & Co. for reportage and writing that helped bring the season back to life for me. A tip of the cap to Kevin in Dallas for his considerable efforts in bringing the appearance and functionality of this blog into the second decade of the 21st century at long last. Further tips of the cap to both Coleman and Kevin for keeping the lights on at DTW for so long in the absence of that remarkable one-man Detroit Guy show who got this whole thing rolling.
Over and out.
RESEARCH MADE POSSIBLE BY:

MAJOR LEAGUE BASEBALL

and BASEBALL REFERENCE. PHOTO CREDIT: AUSMUS: Elizabeth Conley/Detroit News