Win now! First stop: Second place.
So the Detroit Tigers are now:
SP Verlander
SP Scherzer
SP Sanchez
SP Porcello
SP Price
RP Nathan
RP Alburquerque
RP Chamberlain
RP Coke
RP Hardy
RP McCoy
RP Soria
C Avila
C Holaday
1B-DH Cabrera
2B Kinsler
SS-2B Romine
SS Suarez
3B Castellanos
IF-OF Kelly
RF Hunter
CF Carrera
CF-LF Davis
LF-RF J. Martinez
DH-1B V. Martinez
---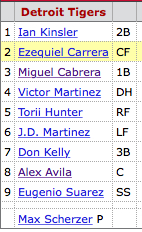 Game 109: Scherzer v. McCarthy. YANKEES 2, Tigers 1. Never ahead, down 2.
NICE PLAYS: SUAREZ-KINSLER-CABRERA, 3B Prado-1B Headley, 2B Drew, HUNTER (2), CF CARRERA, KINSLER-CABRERA, HUNTER-CABRERA-SUAREZ, KINSLER-SS ROMINE-CABRERA, Headley-P Thornton, P Warren
MISPLAYS: Prado
BASERUNNING NEWS: SUAREZ got a great jump on his steal of 2B, and it set up the Tigers' only run. However, a) he hurt himself sliding again, not sure how, looked fine to me, and b) maybe because of that, he made a clumsy step off the bag after standing up that could have cost him the base. ROMINE came in to pinch-run and scored, all good. Gold star to HUNTER-CABRERA-SUAREZ for turning a potential RBI single into a rundown of Gardner to end the Yankees 4th.
THE BIG HIT: Men on 1st and 3rd, 2 out, Tigers down 1-0 in the 3rd, McCann RBI single off SCHERZER.
THE BIG OUTS: Bases loaded, 1 out, 0-0 in the 2nd, McCarthy strikes out AVILA and SUAREZ.
GOOD HITTING:
BAD HITTING: AVILA
GOOD PITCHING: McCarthy
BAD PITCHING:
OBVIOUSLY: Was it close, or did it just look close?
AND, BUT, ALSO: It *was* close. Detroit played one heckuva game defensively. CARRERA's catch on the Ellsbury sacrifice fly was *amazing*, and he and HUNTER played a key role in keeping the damage to a minimum in SCHERZER's one troubled inning. COKE pitched a clean 9th inning. Unfortunately, the one big scoring opportunity came and went in the 2nd. You want this one back, but you can't feel too badly about it.

"It's great to be alive and to be a Tigers fan."

Game 110: Price v. Kuroda. Tigers 4, YANKEES 3 (12). Down 2, up 1.
NICE PLAYS: C McCann-1B Teixeira, PRICE-CABRERA, CABRERA-KINSLER, SS Jeter, 2B Ryan, CF DAVIS, 3B Headley-Teixeira, RF Prado, LF Gardner, RF J. MARTINEZ
MISPLAYS: CF Ellsbury, KINSLER (2), CASTELLANOS, McCann
BASERUNNING NEWS: If Detroit's first run was the winning one, credit DAVIS reading Ellsbury (bobble) and speeding to 3B from 1B. Strange play: PRICE and CABRERA have Ellsbury picked off, but KINSLER blows it by losing a race to 1B (why?) with Ellsbury, where he goes all Ty Cobb, stepping on Ellsbury's hand and tagging him when the hand was removed from the bag (clever, but apparently time had been called). McCann's passed ball was on a pitchout! V. MARTINEZ starts the tying rally by beating the shift with a left side IF single, and later (11th inning!), steals 2B *before* being lifted for a pinch runner (sweet).
THE BIG HIT: None on, 1 out, 3-3 in the 12th, AVILA HR off Daley.
THE BIG OUTS: Runner on 2nd, 1 out, 3-3 in the 9th, Kelley retires J. MARTINEZ and CASTELLANOS on consecutive groundouts to 3B.
GOOD HITTING: AVILA
BAD HITTING: J. MARTINEZ
GOOD PITCHING: PRICE, Kuroda, CHAMBERLAIN, Betances, NATHAN
BAD PITCHING:
OBVIOUSLY: The inexorable comeback, and how sweet it is.
AND, BUT, ALSO: Exhausting. Didn't look good in the 5th. Prado had just homered. Kuroda had retired 14 straight. 3-1 looked big. Then PRICE struck out the side, and then ROMINE put one in the RF seats, and it was turning around ever so slowly. AVILA drove in both the tying and winning runs, 5 innings apart.

Game 111: Verlander v. Capuano. YANKEES 5, Tigers 1. Up 1, down 4.
NICE PLAYS: RF Prado, C McCann-1B Teixeira, CF CARRERA, KINSLER-CABRERA, CF Ellsbury, HARDY, SS Jeter, CABRERA-ROMINE
MISPLAYS: Jeter, McCann, P Capuano, ROMINE, HOLADAY (2), 2B Drew, LF DAVIS, HARDY
BASERUNNING NEWS: Excellent bunt for a hit by CARRERA, got to 2B on the speed forces error bonus. ROMINE blazed to 3B standing up on the CARRERA single to RF in the 7th.
THE BIG HIT: None on, 1 out, 1-1 in the 7th, McCann HR off VERLANDER.
THE BIG OUT: Men on 1st and 3rd, 1 out, Tigers down 2-1 in the 8th, Warren retires J. MARTINEZ (strikeout) and CASTELLANOS (flyball to RF).
GOOD HITTING: McCann
BAD HITTING:
GOOD PITCHING: Capuano, VERLANDER, Warren
BAD PITCHING: HARDY
OBVIOUSLY: How to lose when you should have could have might have won … oh forget it. "How to lose worse" is more like it.
AND, BUT, ALSO: But honestly, the 4-error Yankees didn't deserve this one, aside from Capuano (ROMINE and CARRERA had 4 of the Tigers 5 hits against him!). The Tigers had big chances in the 7th and 8th before HARDY settled things. The great catch at the wall by Ellsbury that took extra bases away from J. MARTINEZ in the 6th might have been a sign that a win was not to be, and HOLDAY missing the tag on Teixeira at the plate in the 8th took care of all that "Tigers played better" feeling. (It was an odd play that scored New York's final two runs. It started off well with a great snag by CABRERA that should have led to a 3-6-1 inning ending DP, except that HARDY was "in the vicinity but not there" and completely whiffed on ROMINE's throw. HARDY recovered well enough to recover the ball quickly and send a bullet to HOLADAY, who opted for tagging Teixeira's chest in spite of the hand about to touch home plate.)

Game 112: Porcello v. Greene. YANKEES 1, Tigers 0. Behind from the 4th on.
NICE PLAYS: KINSLER-ROMINE-1B KELLY (2), 2B Ryan-SS Drew-1B Headley, Ryan-Headley
MISPLAYS:
BASERUNNING NEWS:
THE BIG HIT: Runner on 1st, none out, Tigers down 1-0 in the 9th, V. MARTINEZ draws a walk from Robertson.
THE BIG OUTS: Runners on 1st and 2nd, none out, Tigers down 1-0 in the 9th, Robertson ends the game with a CABRERA double play (KINSLER to 3B) and a popout to SS from KELLY.
GOOD HITTING:
BAD HITTING:
GOOD PITCHING: Greene, PORCELLO, Robertson
BAD PITCHING:
OBVIOUSLY: Keeping it that close was the unsatisfying consolation prize.
AND, BUT, ALSO: Drew's RBI double was just a little slice to LF barely fair. Easy to blame the "B team" lineup, but don't. CABRERA was there to pinch-hit and failed. The post-strikeout whistles from the PA system at Yankee Stadium don't take long to get on your nerves.

Game 113: Sanchez v. Dickey. Tigers 5, BLUE JAYS 4. Down 4, up 1.
NICE PLAYS: SANCHEZ-CABRERA, CABRERA,  SS Reyes-1B Valencia, 3B Kawasaki-Valencia, CASTELLANOS, CF DAVIS, LF DAVIS
MISPLAYS: C Thole, LF J. MARTINEZ (3), SANCHEZ, CASTELLANOS (2)
BASERUNNING NEWS: Toronto bunted 5 times (2 hits, 2 sacrifices, 1 out, 1 RBI). The safety squeeze by Goins was particularly good, close at 1B but withstanding a challenge. J. MARTINEZ forced an error stealing 2B and got to 3B.
THE BIG HITS: Man on 2nd, 1 out, Tigers down 4-2 in the 9th, CASTELLANOS and SUAREZ hit back to back HR's off Janssen.
THE BIG OUT: Bases loaded, 2 out, Tigers up 5-4 in the 9th, NATHAN retires Thole on a flyout to LF foul territory.
GOOD HITTING:
BAD HITTING: CABRERA, Thole
GOOD PITCHING: ALBURQUERQUE, HARDY
BAD PITCHING: Janssen, SANCHEZ
OBVIOUSLY: Gadzooks! A rally, and the Tigers steal one.
AND, BUT, ALSO: SANCHEZ came out in the 5th after injuring himself on a pickoff throw. A very sloppy game from the Tigers, who almost deserved to lose. The SUAREZ game-winning HR was to dead center.

Game 114: Scherzer v. Stroman. BLUE JAYS 3, Tigers 2 (10). Up 2, down 1. Walk-off loss.
NICE PLAYS: P Stroman-2B Goins, 3B Kawasaki-Goins-1B Francisco, KINSLER-CABRERA, RF Bautista, CF DAVIS
MISPLAYS: CABRERA, HOLADAY
BASERUNNING NEWS: OK, DAVIS leads off with a hit to RF, takes the turn, throw comes in from Bautista to Francisco, DAVIS gets back to 1B. Am I seeing things, or did DAVIS actually leap and kick Francisco as he was taking the throw? Anyway, ball gets away, Francisco is charged with an error, and DAVIS gets to 2B. Then Stroman-Goins pick him off. Karma, I think. CABRERA scored from 1B on a double, which never ceases to impress me.
THE BIG HIT: Runner on 1st, none out, 2-2 in the 10th, Reimold RBI double off CHAMBERLAIN.
THE BIG OUTS: Bases loaded, 1 out, 2-2 in the 9th, SORIA retires Francisco (popout SS) and Kawasaki (groundout 1B).
GOOD HITTING:
BAD HITTING:
GOOD PITCHING: SCHERZER, Stroman, SORIA
BAD PITCHING: NATHAN, CHAMBERLAIN
OBVIOUSLY: An unfortunate waste of some brilliant pitching.
AND, BUT, ALSO: NATHAN and CHAMBERLAIN wasted little time throwing this one away. 7 batters faced, 6 reached base. The entrance of CHAMBERLAIN was set up by the exit of SORIA due to injury.

Game 115: Price v. Beuhrle. BLUE JAYS 6, Tigers 5 (19). Up 5, down 1. Walk-off loss.
NICE PLAYS: CF DAVIS (2), C Navarro-3B Tolleson, AVILA-CASTELLANOS, CABRERA-ROMINE, 1B Bautista (3), LF Cabrera, P Jenkins-C Thole-Bautista, HUNTER (2), CF Rasmus (2)
MISPLAYS: SS Reyes, CASTELLANOS (2), 3B Francisco, PORCELLO-KINSLER
BASERUNNING NEWS: Smart and alert baserunning in the 3rd from CABRERA and J. MARTINEZ. CASTELLANOS attempting to steal 3B seemed ill-advised and lame even with a 5-run lead. Signals must have gotten crossed when DAVIS was off to the races from 1B and KINSLER swung at the first pitch for a popout double play. The challenge on the Gose steal of 2B in the 9th that reversed the out call was huge. In the 13th, ROMINE looked like he had brilliantly evaded the rundown between 1st and 2nd, but yet another challenge f0iled that and turned getting caught out into a major gaffe.
THE BIG HIT: Man on 2nd, 2 out, Tigers up 5-4 in the 9th, Reyes RBI single off CHAMBERLAIN.
THE BIG OUT: Bases loaded, 1 out, 5-5 in the 16th, Jenkins retires HUNTER on the rare 1-2-3 double play.
GOOD HITTING: Cabrera, J. MARTINEZ, Reyes
BAD HITTING: DAVIS (0 for 8 with a BB!), HUNTER, Francisco (Reimold was 0 for 7 with *platinum sombrero* plus 2 BB)
GOOD PITCHING: Jenkins, ALBURQUERQUE, HARDY, Redmond, Sanchez
BAD PITCHING: Buehrle, COKE, PORCELLO (in relief)
OBVIOUSLY: Do you complain about 15 consecutive scoreless innings from the offense, or console yourself with 9 consecutive shutout innings from the bullpen? No, you get angry that Detroit blew a 5-0 lead.
AND, BUT, ALSO: Only 1 home run between the teams was one of many strange things about this 6 and a half hour game. The Valencia double that went off PRICE's leg into RF in the 6th was the exact point where the game started tipping Toronto's way. PORCELLO's throwing error on the Reyes bunt in the 19th was at least as much KINSLER's error. Have you noticed when watching how difficult it is to see the baseball against the turf at Rogers Centre?

Game 116: Verlander v. Locke. PIRATES 11, Tigers 6. Up 1, down 7.
NICE PLAYS: 3B Harrison-1B Davis, LF Snider-C Martin, LF J. MARTINEZ-AVILA, Harrison, RF Polanco-Martin
MISPLAYS: Martin, CF DAVIS, 1B V. MARTINEZ, AVILA (2), HUNTER, Harrison
BASERUNNING NEWS: Both AVILA and DAVIS were easy outs at home thanks to the arms of the Pirates' outfield. The Tigers got one back, with J. MARTINEZ-AVILA nailing Harrison at the plate to help avert even more of a blowout early.
THE BIG HIT: Bases loaded, 1 out, Tigers down 1-0 in the 1st, Marte 3-run triple off VERLANDER.
THE BIG OUTS: Runners on 2nd and 3rd, 1 out, Tigers down 5-1 in the 2nd, Locke gets DAVIS to line out to LF, and AVILA is thrown out at home.
GOOD HITTING: Snider, Marte, HUNTER
BAD HITTING:
GOOD PITCHING: KROL, Hughes
BAD PITCHING: VERLANDER, Locker, WHELAN, MILLER, Sadler
OBVIOUSLY: This one got out of hand quickly. Hard to remember the Tigers scoring first.
AND, BUT, ALSO: VERLANDER pitched one lousy inning and then contributed a sac bunt before leaving the game with some kind of shoulder issue. Lousy defense from Detroit, but   it's also pretty hard to defend against 4 home runs. One of Snider's was a real blast into the upper reaches of the RF stands.
Game 117: Ray v. Volquez. PIRATES 4, Tigers 2. Up 1, down 2.
NICE PLAYS: P Volquez-C Martin, SUAREZ-1B V. MARTINEZ, AVILA-KINSLER, V. MARTINEZ-ROMINE, 3B Harrison-1B Davis
MISPLAYS: 2B Nix, CF CARRERA-LF DAVIS, AVILA, COKE
BASERUNNING NEWS: Pittsburgh turned two SB into two runs, while the Tigers had nothing going on.
THE BIG HIT: Man on 1st, 1 out, Tigers up 1-0 in the 2nd, Sanchez RBI double off RAY.
THE BIG OUTS: Men on 1st and 2nd, 1 out, Tigers down 4-2 in the 9th, Melancon retires HUNTER (flyout RF) and DAVIS (groundout 3B).
GOOD HITTING:
BAD HITTING:
GOOD PITCHING: Volquez
BAD PITCHING:
OBVIOUSLY: Slipped away early and fell short late.
AND, BUT, ALSO: Detroit came out full of energy and plated a small ball run, but as soon as Volquez had made his brilliant snag of the comebacker and caught KINSLER between 3B and home, the wind seemed to have been taken out of their sails.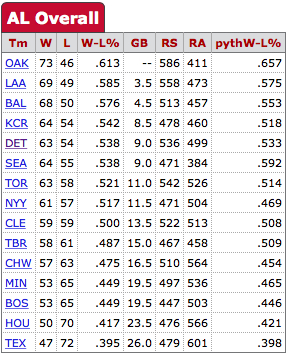 Game 118: Worley v. Farmer. TIGERS 8, Pirates 4. Down 3, up 4.
NICE PLAYS: KINSLER-CABRERA, RF Polanco (2), 3B Harrison-1B Davis (2), CASTELLANOS-CABRERA (2), KINSLER-SUAREZ-CABRERA, Harrison-2B Nix-1B Davis, SS Mercer-Nix-Davis, LF KELLY
MISPLAYS: SUAREZ, CF Marte, HUNTER, C Martin (2), CF CARRERA, Kelly, Polanco (2), Nix-SS Mercer
BASERUNNING NEWS: Good to see Tigers (CASTELLANOS and CARRERA) galloping into 3B on triples at Comerica. The way it should be.
THE BIG HIT: None on, 1 out, 4-4 in the 6th, CASTELLANOS HR off Worley.
THE BIG OUT: Runner on 1st, 1 out, 4-4 in the 6th, HARDY retires Snider on a 4-6-3 DP.
GOOD HITTING: V. MARTINEZ, Mercer
BAD HITTING: KELLY
GOOD PITCHING: HARDY
BAD PITCHING: Worley, Pimentel
OBVIOUSLY: Ah, at last, pitching we can hit.
AND, BUT, ALSO: This did not look good early, not at all. The AVILA HR must have gotten into Worley's head, because it all started to unravel for Pittsburgh at that point. There was three games worth of defensive action in this one, both good and bad, on both sides.

Game 119: Liriano v. Scherzer. TIGERS 5, Pirates 2. Never behind, up 5.
NICE PLAYS: AVILA-SUAREZ, LF J. MARTINEZ, C Stewart-2B Martinez, 3B Harrison, Harrison-1B Davis, CASTELLANOS-CABRERA, Martinez, KINSLER-CABRERA (2), HUNTER
MISPLAYS: P Liriano, 2B Martinez (2), SS Mercer, Stewart
BASERUNNING NEWS: Nice headfirst slide by KINSLER nets him a steal of second in spite of a great play against him. SUAREZ got burned trying to take 2B from a throwing error to 1B well backed up by C Stewart, and it looked pretty costly at that point in the game. Smart CABRERA reads another error beautifully to score from 2B. Pinch-running KELLY for J. MARTINEZ in the 8th was one of those under the radar smart moves. Snider busting up the DP in the 9th tacked another run onto COKE's ERA.
THE BIG HIT: None on, none out, 0-0 in the 5th, J. MARTINEZ HR off Liriano.
THE BIG OUTS: Bases loaded, 1 out, Tigers up 1-0 in the 6th, Liriano strikes out HUNTER and CASTELLANOS around a run-scoring walk (J. MARTINEZ) to escape with minimal damage.
GOOD HITTING: J. MARTINEZ, Sanchez
BAD HITTING: HUNTER
GOOD PITCHING: SCHERZER, Liriano
BAD PITCHING: Cumpton, COKE
OBVIOUSLY: SCHERZER so untouchable that 5 runs (on 6 hits) makes it a blowout.
AND, BUT, ALSO: Batters were swinging out of their shoes at both SCHERZER (14 K) and Liriano (9 K), but Pittsburgh had some clown show going and it cost them. J. MARTINEZ could do no wrong after striking out the first time up (HR, walked in a run, singled in a no-RBI run). A good game ends on a high note with fine defensive plays, including a diving catch from old man HUNTER.

Game 120: Paxton v. Porcello. Mariners 7, TIGERS 2. Never ahead, down 5.
NICE PLAYS: 1B Morrison, SUAREZ-KINSLER-CABRERA, SS Taylor-Morrison, 3B Seager, HOLADAY-SUAREZ, CASTELLANOS-CABRERA (2)
MISPLAYS: KINSLER-PORCELLO, HOLADAY, Taylor, CF Jackson, SUAREZ-KINSLER, P Paxton, C Zunino, KROL
BASERUNNING NEWS: DAVIS blazed to 3B for a triple despite slipping round 1B. Later on, Miller would show how it's done without the slip. HUNTER was called safe on a throw from Taylor that pulled Morrison off the bag and then kept going for 2B (did he think Morrison's tag was a deke?) and got thrown out when Morrison came to and threw down to 2B. Well, actually, he was called safe, but it was close. But the call that got challenged was the one at 1st, and here it became clear that Morison *had* tagged HUNTER. Jackson lost his steal of 2B to an alert SUAREZ holding the tag on him as he briefly came off standing up. KROL, with runners at 1st and 3rd, took the bait on a designed play, went for the pickoff at 1B, allowed the run. Since that made it a 5-run lead, I'd call it getting burned.
THE BIG HIT: Men on 1st and 2nd, none out, 0-0 in the 2nd, Morrison RBI single off PORCELLO.
THE BIG OUT: Men on 1st and 3rd, 2 out, 0-0 in the 1st, Paxton retires HUNTER on a groundball (forceout at 2B).
GOOD HITTING: Taylor, Morrison
BAD HITTING: Jackson
GOOD PITCHING: Paxton
BAD PITCHING: PORCELLO
OBVIOUSLY: Losing in a very undramatic fashion.
AND, BUT, ALSO: It started poorly for Detroit and got worse. Not a defensive gem, this one, with some drunkenly bad plays on both sides. The bright spot was 2 scoreless innings from MERCEDES in his MLB debut.

Game 121: Hernandez v. Price. TIGERS 4, Mariners 2. Never behind, up 3.
NICE PLAYS: RF Denorfia (2), 2B Cano, SUAREZ, CABRERA, CASTELLANOS-CABRERA, P Hernandez, 3B Seager, CABRERA-SUAREZ
MISPLAYS: SS Taylor, C Zunino, SUAREZ, Seager, NATHAN-CABRERA
BASERUNNING NEWS: J. MARTINEZ swipes 2B and it sets up a run. Cano caught the Tigers sleeping going 1st to 3rd on a grounder to NATHAN in the 9th.
THE BIG HIT: None on, none out, 1-1 in the 4th, CASTELLANOS HR off Hernandez.
THE BIG OUTS: Bases loaded, 1 out, Tigers up 4-1 in the 8th, PRICE retires Jackson (K) and Ackley (grounder to SS, force at 2B).
GOOD HITTING: CASTELLANOS
BAD HITTING: Ackley
GOOD PITCHING: PRICE
BAD PITCHING: Maurer
OBVIOUSLY: Detroit was better across the board.
AND, BUT, ALSO: PRICE got a huge round of applause for his performance. NATHAN didn't get quite as much love for his 9th inning. The contrast was pretty stark. Little things that change ballgames: If 3B Seager had cut off the throw from LF Ackley and thrown home as he should have, Seattle could have nailed CABRERA at the plate and ended the 7th inning down only 2-1.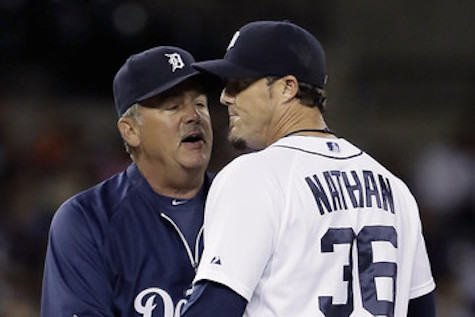 "I hate baseball."

Game 122: Young v Ray. Mariners 8, TIGERS 1. Never ahead, down 7.
NICE PLAYS: 1B V. MARTINEZ-RAY, V. MARTINEZ, JOHNSON, LF DAVIS, 2B Cano, ROMINE, 2B Miller-SS Taylor-1B Morrison
MISPLAYS: V. MARTINEZ (2), AVILA, 3B Seager, LF DAVIS, CF CARRERA, CASTELLANOS
BASERUNNING NEWS: DAVIS steals three bases and the Tigers can't score him once, but CABRERA covers three bases to score on a double.
THE BIG HIT: Runners on 1st and 3rd, 1 out, 0-0 in the 1st, Morales RBI single off RAY.
THE BIG OUTS: Runner on 3rd, 1 out, Tigers down 3-0 in the 3rd, Young retires KINSLER (foul popup) and CARRERA (K).
GOOD HITTING: Morales, Cano
BAD HITTING: KINSLER
GOOD PITCHING: Young
BAD PITCHING: RAY
OBVIOUSLY: Detroit was worse across the board. Trounced. Just plain trounced.
AND, BUT, ALSO: It was really that 6th inning where things went from difficult (trying to hit Young) to embarrassing. M's manager McClendon was tossed in the 9th (by the 3rd base ump) for who knows what following an AVILA walk and seemed as surprised as anyone by it.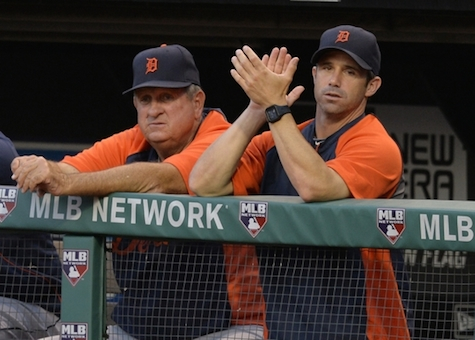 Game 123: Scherzer v. Archer. Tigers 8, RAYS 6 (11). Down 4, up 3.
NICE PLAYS: LF Joyce, 1B Loney-SS Escobar, 3B Longoria-2B Zobrist-Loney, Escobar
MISPLAYS: CF DAVIS, Loney-Escobar, ROMINE, RF Kiermaier, C Molina
BASERUNNING NEWS: AVILA must have had gotten a huge break off 2B to score the tying run so easily, because even when he's running like a track star (and he was) he's just not that fast. The Tigers stole a couple bases but didn't let it affect their scoring.
THE BIG HIT: None on, none out, 5-5 in the 11th, KINSLER triple off Balfour.
THE BIG OUT: Men on 1st and 3rd, 2 out, 5-5 in the 10th, McGee strikes out DAVIS.
GOOD HITTING: Loney, Zobrist, DAVIS, Longoria
BAD HITTING: Jennings
GOOD PITCHING: SCHERZER, McGee
BAD PITCHING: Balfour, Beliveau, CHAMERLAIN
OBVIOUSLY: They battled back and came through late in the clutch.
AND, BUT, ALSO: You could have been forgiven for turning this one off after 2 innings. It took SCHERZER a while to find his game. A couple key plays in the 5th turned the tide Detroit's way: A Loney-Escobar IF mishap that loaded the bases, and the trap catch by CF Jennings that AUSMUS successfully challenged. After that, the Rays (their bullpen especially) seemed determined to give the game away. It just took the Tigers (2-15 RISP) a long time to get the message.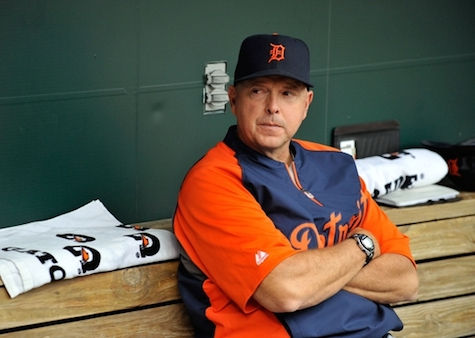 Game 124: Porcello v. Odorizzi. Tigers 6, RAYS 0. Ahead from the 1st inning on.
NICE PLAYS: 3B Longoria (2), CABRERA-PORCELLO, KINSLER-PORCELLO, CF DAVIS, LF J. MARTINEZ, RF Kiermaier
MISPLAYS: 1B Loney (2), Longoria, C Casali
BASERUNNING NEWS: CABRERA was on base 4 times and did something good/smart 3 of those times (trotting home on the V. MARTINEZ HR was easier).
THE BIG HIT: Bases loaded, 2 out, Tigers up 2-0 in the 7th, V. MARTINEZ grand slam off Yates.
THE BIG OUT: Bases loaded, 2 out, Tigers up 1-0 in the 6th, Odorizzi retires CASTELLANOS (groundout 2B).
GOOD HITTING: V. MARTINEZ
BAD HITTING: (Golden sombrero for Mr. ROMINE.)
GOOD PITCHING: PORCELLO, Odorizzi
BAD PITCHING: Yates
OBVIOUSLY: The "duel with a one-inning decisive explosion" makes its triumphant return after a long absence.
AND, BUT, ALSO: Pseudo-duel, really, as there was no match for PORCELLO (3rd complete game shutout), who retired 20 in a row at one point. All 6 Tigers runs began with two out, no one on situations! It was still a nail-biter until the V. MARTINEZ slam (a true bomb to RF). DAVIS got the party started with his two-out double off Odorizzi.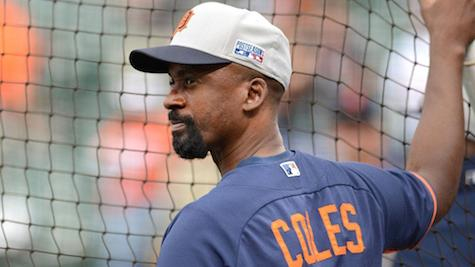 Game 125: Price v. Cobb. RAYS 1, Tigers 0. Behind from the 1st inning on.
NICE PLAYS: SS Escobar-1B Loney, HUNTER, CF DAVIS, RF Kiermaier
MISPLAYS: SUAREZ
BASERUNNING NEWS:
THE BIG HIT: Runner on 1st, 1 out, 0-0 in the 1st, Guyer RBI triple off PRICE.
THE BIG OUTS: Runners on 2nd and 3rd, 2 out, Tigers down 1-0 in the 7th, Cobb retires J. MARTINEZ (K) and CASTELLANOS (flyball to deep CF).
GOOD HITTING:
BAD HITTING: DAVIS, J. MARTINEZ
GOOD PITCHING: Cobb, PRICE
BAD PITCHING:
OBVIOUSLY: Oh, they had their chances late.
AND, BUT, ALSO: One hit for the Rays. One hit. And they win. The runner that scored in the 1st inning was there by virtue of the throwing error by SUAREZ. Meanwhile, RF Kiermaier made the game-saving catch on the shallow DAVIS flyball in the 8th.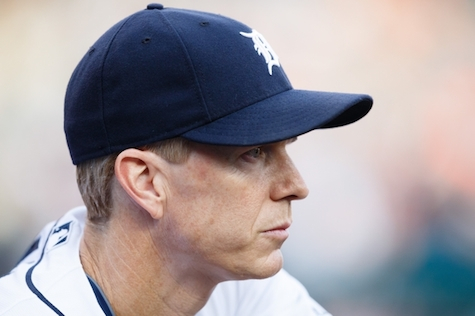 Game 126: Ray v. Milone. TWINS 20, Tigers 6. Up 1, down 14.
NICE PLAYS: P Milone-1B Mauer, LF J. MARTINEZ, LF Schafer, 1B Mauer, CF DAVIS, 2B Dozier-SS Escobar-Mauer, CF Santana
MISPLAYS: KINSLER (2), Escobar (3), Santana (2), C Suzuki, DAVIS, CASTELLANOS, 3B Plouffe-1B Parmelee, CF CARRERA
BASERUNNING NEWS: There's a certain minimum of good pitching and defense required to make baserunning relevant. Not met.
THE BIG HIT: Man on 2nd, 1 out, Tigers down 2-1 in the 2nd, Escobar 2-run HR off RAY.
THE BIG OUTS: Men on 1st and 3rd, 1 out, Tigers down 6-5, Pressly retires V. MARTINEZ on a 4-6-3 DP.
GOOD HITTING: Plouffe, Santana, Mauer, Escobar, Arcia, Dozier, Schafer, KINSLER
BAD HITTING: Suzuki, DAVIS
GOOD PITCHING: COKE, Pressly
BAD PITCHING: RAY. Milone, KROL, JOHNSON, CHAMBERLAIN, ROMINE
OBVIOUSLY: Would you believe this horror story was only 6-5 Twins (with Detroit threatening) in the middle of the 6th inning? Even Minnesota played like a AAA team – what does that say about Detroit's effort?
AND, BUT, ALSO: The game started with a blast from KINSLER, and RAY struck out two in the bottom half. Right away it looks like a Detroit win. Had you tuned back in for the top of the 6th, you would have said "Minnesota is going DOWN." Then came the bottom of the 6th, a nearly unimaginable collapse of pitching and defense: 15 Twins batted against JOHNSON/KROL/ALBURQUERQUE. 7 batted with the bases loaded, 1 out recorded. Errors and misplays everywhere. Tigers pitch count for the game was 214. I want to blame AUSMUS for the spectacle of ROMINE pitching the 8th (how humiliating for Andrew himself), but the rest of the bullpen, particularly CHAMBERLAIN, really left him no choice. All that said, the whole game might have turned on Detroit's failure to score in the 6th.
---

DEFENSIVE SCORECARD (in terms of outstanding plays one way or the other)
1B CABRERA (+26, -2) +24
2B KINSLER (+14, -7) +7
CF DAVIS (+8, -3) +5
SS SUAREZ (+9, -4) +5
RF HUNTER (+7, -3) +4
SS ROMINE (+6, -2) +4
3B CASTELLANOS (+8, -7) +1
LF J. MARTINEZ (+4, -3) +1
1B V. MARTINEZ (+4, -3) +1
RF J. MARTINEZ (+1, 0) +1
LF KELLY (+1, 0) +1
1B KELLY (+1, 0) +1
P JOHNSON (+1, 0) +1
P RAY (+1, 0) +1
P PRICE (+1, 0) +1
C AVILA (+4, -4) 0
P PORCELLO (+2, -2) 0
P SANCHEZ (+1, -1) 0
P HARDY (+1, -1) 0
LF DAVIS (+2, -3) -1
P COKE (0, -1) -1
P KROL (0, -1) -1
P NATHAN (0, -1) -1
CF CARRERA (+2, -4) -2
C HOLADAY (+1, -4) -3

GAME 109: The novelty of the Tigers having the last three AL Cy Young Award winners is played up for the Yankees series, where they will make consecutive starts. *** Eugenio Suarez injures himself (sprained knee), again with a slide into second base, and will likely miss a few games. *** Ezequiel Carrera draws raves for a catch in his first start in CF. Jacoby Ellsbury: "I haven't seen a better play made all year. The time of the game. Bases loaded. Just a tremendous play. Shows his athleticism to get that ball. I think that's three RBIs, and at least a triple. That kept them in the ballgame. If that ball lands, it might break open the game for us."
GAME 110: Detroit signs RP Jim Johnson to a minor league deal, with the expectation that he will be ready for promotion after some tune-up in Toledo. *** Torii Hunter is day to day after leaving the game with a bruised hand (Dellin Betances HBP). *** Joba Chamberlain had to put up with some extra boos, in his first return to New York, after hitting Derek Jeter with a pitch (he felt bad). *** Brad Ausmus on Ian Kinsler: "I guess I was hoping for solid second base; he's been outstanding second base. He's a complete baseball player." *** The Tigers debut of David Price is an unqualified success.
GAME 111: Ausmus: "Tonight was as bad as we've been offensively, I think, really all year. Again, Chris Capuano did an excellent job, but the first seven innings of the game, we didn't seem to make many adjustments."
GAME 112: Victor Martinez, after a four-game series in which the Tigers scored 6 runs: "They did everything they could to win ballgames," he said of the pitching staff. "Offensively, we just didn't do anything. It's very — I'm having a hard time finding the right word to say it… Offensively, we just didn't put anything together."
GAME 113: Anibal Sanchez exits the game early with a right pectoral strain after a pickoff throw to first base. *** Rajai Davis, back in Toronto for the first time, on his game-ending catch in LF: "It actually seemed like it started off fair and then it kind of tailed off. But as soon as it was hit, I knew I had a shot at it. I just put my head down and ran as fast as I could to a spot where I thought it was going to be at. I looked up, took my slide and slid a little longer than I planned. It worked out for us." *** A hamstring injury is the latest setback in the minor league rehab assignment of Andy Dirks.
GAME 114: Day game after night game includes a morning hotel fire alarm adventure for the team. *** Joakim Soria exited the game with some kind of left side injury. *** Max Scherzer on not coming back out for the 9th inning: "I was done. I mean, there's nothing else to it. I was done. I'm not going to sit here and play second-guessing the manager. I was done." *** Ausmus on defensive shifts: "Omar [Vizquel] and I, we've kind of felt that was the way to go. If you're going to shift and you're worried about a guy bunting, you bring the one [defensive] guy in and move him back with each strike." *** Luke Putkonen begins throwing bullpen sessions, still an outside chance of a September return.
GAME 115: The marathon: "Nineteen innings, on turf," said Torii Hunter, one of five Tigers position players who were on the field for all 19. "It wears your muscles out, not really your joints. This is more your muscles, your calves, your hamstrings, shoulders, everything." *** Sanchez and Soria (left oblique strain) are placed on the 15-day DL. Robbie Ray will take Sanchez's place in the rotation. *** Ausmus takes in the marathon game from the clubhouse, having been ejected in the 3rd inning for comments from the dugout about the strike zone Mark Buehrle was getting. *** Game duration of 6:37 is the second-longest since 1914 for Detroit. *** Melky Cabrera became the first player to reach base 8 times in a game since 1972.
GAME 116: The Tigers fall out of first place, and the flash flood of injuries to pitcher continues, as Justin Verlander exits after only one inning with right shoulder soreness and doesn't think much of his stuff ("The worst of my career"). *** Ausmus: "We were a little sloppy in the field early, and had a couple of baserunning blunders as well. So it was a sloppy game all around. But we did swing the bats better, and that's the one positive." *** A flurry of roster moves in response to injuries and the marathon game: Relievers Ian Krol, Justin Miller, and Kevin Whelan come up from Toledo, relievers Blaine Hardy and Pat McCoy are optioned to Toledo (though maybe just on paper), and Mud Hen P Casey Crosby is released to clear room on the 40-man.
GAME 117: Hunter on the just-completed 2-7 road trip: "We're not pointing fingers at any particular people here. We haven't hit as a whole on this road trip. As a team, we haven't scored runs. We've gotten hits at times. We haven't scored runs. And we've got to find a way to drive runners in." Ausmus: "It was a crappy trip. That's how I would assess it." *** Hardy never actually has to leave due to roster technicalities about replacing the DL'd Sanchez, while Miller's stay was short to make room for starter Ray. Following all this? *** Trainer Kevin Rand on Verlander: "At this point right now, we're looking at hopefully he'll only miss one start and we'll go from there."
GAME 118: P Buck Farmer (only two starts above A-ball) is called up to make his MLB debut as the spot starter, so Whelan is sent back to Toledo and Erie C Ramon Cabrera is DFA to clear the roster space (and the Pirates immediately claimed him on waivers). *** The Pirates' Travis Snider on Farmer's debut: "Early on, he was effective. Later in the game, he made a couple mistakes. Overall, he gave his team a chance to win, so you've got to tip your cap on that one." *** Pigeons have replaced gulls as the birds of distraction at Comerica, causing some distraction and amusement early in this game. *** This was the game of the famous Joe Nathan chin flicks to the crowd after closing out the win *after* struggles that drew some significant booing. Nathan explained and apologized soon thereafter.
GAME 119: Max Scherzer strikes out 14 and becomes the first AL starter with 14 wins. *** The first Scherzer out on a ball in play (8 K's on first 10 batters) wasn't until the 4th inning, on a fine run-saving play at the wall in LF appreciated by Max. J.D. Martinez: "He [Travis Snider] put a good swing on it. The wind was blowing out in that direction. I knew it was going to carry. I was just going, going, going, try to just get there, have a chance at it." *** Farmer returns to the minors, Johnson wants another tune-up outing in Toledo, and so reliever Melvin Mercedes comes up to take Farmer's spot.
GAME 120: Rick Porcello: "I was up in the zone the whole night, didn't make the proper adjustments to get the ball down. Just didn't pitch well at all," he said. "This wasn't a good performance on my part, put us out of the game early." *** J.D. Martinez on coming out of a 13-72 post-break slump: "Me and [assistant hitting coach] Darnell Coles, we were working really hard on not crossing my front foot. It seemed like I've been crossing it a lot more and just hitting a lot of ground balls to the left side of the field, which when I'm going good I'm not doing." *** Austin Jackson makes his first appearance in Detroit as a Mariner, going 0-5 with a GIDP that plated a run *** Mercedes has an impressive 2-inning MLB debut, but is sent back to Toledo after the game as Johnson is called up.
GAME 121: David Price, making his home debut as a Tiger before the biggest crowd since Opening Day, on Ausmus leaving him in to get out of his 8th-inning jam: "I'm pretty sure that's the first time I ever had the manager come out and I've been able to stay in the game. That's cool. I love that." *** Ausmus on questions about one particular player's recent offensive struggles: "As a group, we haven't scored a bunch of runs lately. We have trouble scoring runs. We can't string hits together. So I'm not going to single out one particular player and say that's the reason we're struggling. First of all, it's not true, and it's completely unfair to that player."
GAME 122: Miguel Cabrera: "You want to get good at-bats. That's what you want to get, get deep in the counts, like we do yesterday with Felix. I think we don't do a very good job with this pitcher today. I think we have to battle better. We have to do a better job offensively." *** Ausmus after a game of dismal defense: "It is baseball, but we need to play better. We're a better team than this. Period." *** Davis after his rather Detroit-historic day on the basepaths (3 SB, reaches 30 for the season): "I just try to get into scoring position. It's easier to score from 90 feet closer than it is from 90 feet further away." Davis bruises his thumb on one steal, leaves the game eventually, goes day to day.
GAME 123: Scherzer: "I was giving up some runs, and walking guys, and, you know, that's frustrating. But I didn't let it beat me down. They didn't knock me out of the game. I didn't let them get the best of me. I was able to settle down and get back on track. Just found a way to get it done. That's all I can say."
GAME 124: Porcello: "We had a couple of guys set up. The right-handers, we were pounding them in with sinkers. When you throw consecutive pitches on the inner half or in off [the plate] and you get them swinging at it, it makes the outer half of the plate look pretty far away." *** Tampa Bay's Kirby Yates on the Victor Martinez grand slam: "Those guys are geared up to hit those kinds of pitches, and bottom line is I didn't execute. I knew it was gone as soon as it left my hand."
GAME 125: The first time since at least 1914 that a pitcher – Price, in this case – has lost a complete-game, one-hit, no-walk start without allowing an earned run. Hunter: "I mean, you talk about almost a no-hitter. I just wish we would have scored some runs. At least one run. It's really frustrating, you know? Of course it was a good game both ways, but — at least one run? Can't we get one?"
GAME 126: Ausmus: "This was a bad game. It was an embarrassing game, really. There's really not much to say about it. It is what it is." On using Andrew Romine as a pitcher: "He took one for the team. He picked us up, really. Didn't really matter how he pitched, we just were hoping that he could get through three outs without an injury or overextending himself." *** Ray on suspecting he was tipping pitches: "They knew when it (an offspeed pitch] was coming," *** Cabrera was at DH rather than 1B for some rest. Ausmus: "He re-aggravated an old ankle injury. It goes back a little ways. It's not the first time it's happened. It flares up from time to time, and a lot of times when he slides, it re-aggravates it for whatever reason." *** Ray and Krol return to Toledo, replaced by Kyle Lobstein and McCoy, and Farmer is recalled for a spot start in the next game. ***  Verlander will miss only the one start he has already, and will be scheduled to follow Farmer in the imminent doubleheader.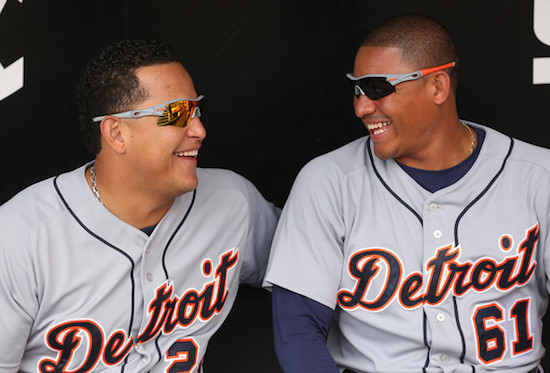 68-58, 2nd in the Central, 6th in the AL, on pace for an 87-75 season…
RESEARCH MADE POSSIBLE BY:

MAJOR LEAGUE BASEBALL

and

BASEBALL REFERENCE

.

PHOTO CREDITS: PRICE: Kathy Willens/AP; JONES: Duane Burleson/Getty Images; LAMONT: David Richard/USA Today; JOYNER: Joy R. Absalon/USA Today; COLES: Mark Cunningham/Getty Images; MARTIN: Rick Osentoski/USA Today; CARRERA: Jeffrey Phelps/Getty Images.