Game 2014.123: Tigers at Rays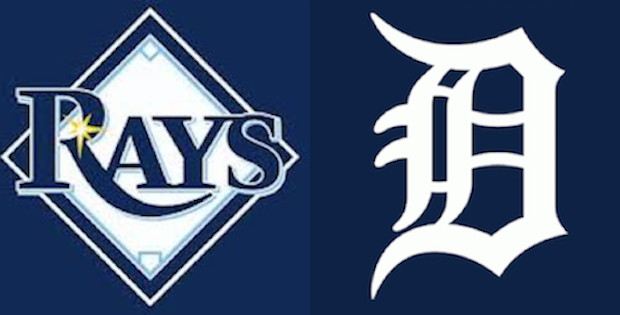 Baseball Reference Game Preview
Things aren't going well for the Detroit Tigers these days. Not only are they not playing well as a team, but in addition to the DL-injured Anibal Sanchez and Joakim Soria, and the non-DL injured Justin Verlander, now speed demon and dropper of fly balls Rajai Davis is day to day with a bruised thumb. Sunday's 8-1 loss to the Mariners was another notable low point in a season with too many already. It was a drag to watch that literally put me to sleep. Yes, there have been both ups and downs, to wit:
27-12
9-20
17-6
13-18
… and we currently find ourselves in a down. What's next? Up, maybe?
Melvin Mercedes and Jim Johnson are the latest efforts to shore up the bullpen. We'll see, eh? The Tigers are up to 26 pitchers used this season, and not a lot of that can be chalked up to injuries.
There was a bit of initial buzz about the opportunity for Ezequiel Carrera, and I kept an open mind myself. He is quite a good defender, and on top of that, well… um…  he really is quite a good defender.
No one's on fire*, and no one is going down in flames. We can blame whoever – it's really quite the team effort at failure when they fail these days, isn't it? And is 66-56 so surprising? When you consider how little has changed over the course of the season? Bullpen the same, offense the same, defense the same, starting pitching about the same (a bit challenged by injuries lately, but not such a big factor in the post-break funk). Maybe Detroit's streaky way of getting to such a pedestrian record is the surprising thing. I suppose it will take some kind of magic to again rise above. Not a question of "going out and getting someone" anymore (such as Nathan? Soria? Price? Johnson?). No. Team magic.
In the meantime, I like Vince's idea of pondering the rebuilding – or the retooling, or whatever you see fit – ahead for 2015. I think it would make a good off day discussion in advance of Tuesday's game. Let's fire 'em and unload 'em in the offseason now and get all that out of our system in advance of the new 2014 season that begins August 19.
*Well, OK, you could say that Max has been on fire – in a good way – and David Price ain't been too shabby himself. Victor keeps rolling. The rest of  'em need to pick it up in a big way.