Game 2014.107: Tigers 11, Rockies 5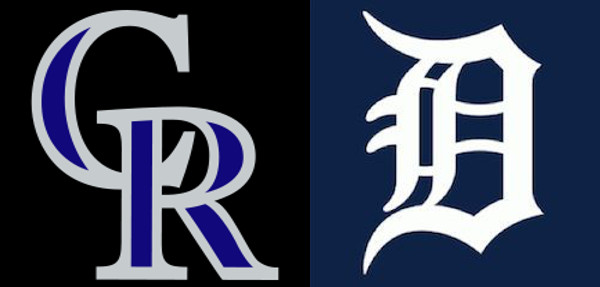 Well, the first day of The New Tigers was a roaring success, with Rajai Davis doing a little bit of everything from the leadoff spot (2-for-4, 2 RBI, 2 runs, 5 putouts in center). For those comparing, Austin Jackson had an 0-for-3 with 2 strikeouts and a walk leading off for Seattle.
Justin Verlander also had his best game in a very long time, spreading 8 hits out over 8 innings and only giving up 2 runs, mostly because: zero walks. He really only had one bad inning, the 7th, which was made worse by a play where Castellanos had to decide whether to go for the inning-ending double play or throw home, and made a high throw to the plate which didn't give Holaday a very good chance at getting the out. It was a vintage-looking Verlander that finished business himself by striking out the next two batters.
One of the Tiger starters is going to end up in the bullpen for the postseason. Based on performance this season, that should be Verlander, unless he comes on strong the rest of the way. But does anybody really think that's a possibility? I don't. The most likely guy to draw the short straw is Rick Porcello, but he is really making that a difficult decision, as he continues compile the best season of his career. His last three starts have been stellar: while he has only come up with one win (thanks to lifeless bats and a blowpen), he has put up a 1.71 ERA and lasted 7 strong in each. He has also started adding the K to his ground ball repertoire, striking out 5 and 6 in his last 2 starts.
Tonight Porcello will benefit from a Colorado lineup that is not only missing Tulowitzki, but also Carlos Gonzalez, who re-injured an ankle making a brilliant catch of a foul ball last night.
Tonight's Lineup–Los Nueve Tigres:
Davis, CF
Kinsler, 2B
Cabrera, 1B
V Martinez, DH
Hunter, RF
JD Martinez, LF
Castellanos, 3B
Avila, C
Suarez, SS
Yes, it's the old Alex Avila vs the lefty saga again tonight (and probably tomorrow). But until StorminNorman$ pointed it out in a comment last night, I didn't realize that Avila is actually holding his own against lefties compared to Holaday:
.185 BA .456 OPS Holaday
.205 BA .535 OPS Avila
Hmm, who knew? I have a theory why the perception is so different: Avila has 32 strikeouts vs 3 walks in only 84 plate appearances. So there is making outs, and there is making outs haplessly flailing at strike three. Still, The numbers say that playing Holaday against lefties may not be the upgrade it seems.