Game 2014.96: Tigers 4, Diamondbacks 3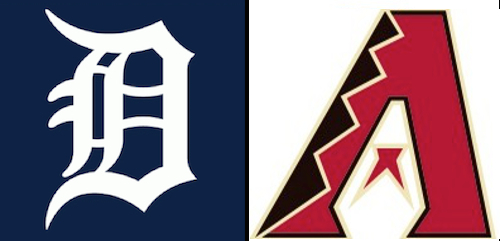 Gear up Night Owls, the Tigers are off on a 7-day Western jaunt, starting with three in Arizona tonight.
Scheduled times/starting pitchers for the road trip:
Detroit at Arizona:
Mon Jul 21 9:40  Verlander vs Nuno (L)
Tue  Jul 22 9:40  Porcello vs Anderson
Wed Jul 23 3:40  Sanchez vs Cahill
Detroit at LA Angels
Thu Jul 24 10:05  Scherzer vs Richards
Fri  Jul 25  10:05  Smyly vs Skaggs (L)
Sat Jul 26  9:05   Verlander vs Shoemaker
Sun Jul 27 3:35   Porcello vs Santiago (L)
The Tigers have never fared well on the West Coast, but of course Arizona is not the coast, so hopefully this trip gets off to a good start. The Tigers do still have the best road record in the American League, which Scherzer and Cabrera should have thought about more before contributing to the AL All-Star game victory.
The big topic for the first leg of this road trip of course, will be the who-plays-where involved with the lack of a DH, and Ausmus opts to go with Cabrera at 3rd for the opener. A little more surprising is Holaday at catcher; yes, they are facing a lefty, but that usually doesn't make so much of a difference. Even more surprising is Suarez being bumped up to the 6th spot. Hmm.
Bullpen help? The Nats just released Ryan Perry (kidding, I hope).
Hopefully at some point in this series we will see the Diamondbacks' backup up catcher, because you can't beat a name like Tuffy Gosewisch.
Today's No-DH Lineup:
Jackson, CF
Kinsler 2B
Cabrera, 3B
Martinez, 1B
Hunter, RF
Suarez, SS
Holaday, C
Davis, LF
Verlander, P
Austin Jackson has never really seemed a fit in the leadoff spot, which was never more apparent than in last postseason, where he couldn't even put a ball in play until he was finally bumped down to the 2nd half of the order. So I didn't expect much when Ausmus tried moving Austin back into the leadoff spot, especially after he earned a sombrero on July 4. But since taking over the leadoff spot, he is hitting .354 with a .928 OPS.
That should help Verlander in the 9th spot, having Jackson to protect him in the lineup.