Game 2014.97: Tigers at Diamondbacks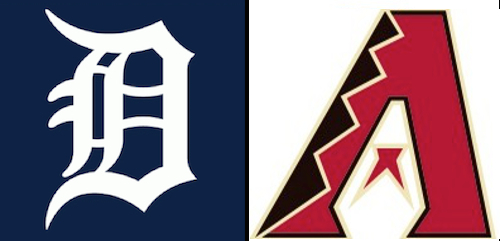 For those of you who couldn't stay up quite that long, and who don't read newspapers or internets or such, the Tigers started their trip out west with a 4-3 win over the Arizona Diamondbacks, as Austin Jackson and Torii Hunter continue their torrid July. Torii just turned 39 and is doing it in style; leading the team in BA (.365), OPS (1.077), HR (5) and RBI (19) for the month of July. Austin Jackson has been thriving in the leadoff spot, hitting .357 so far this month.
Miguel Cabrera, who hasn't seemed quite right lately (6th best team OPS since July 1), added a 420 ft. RBI single, and was thrown out at 2nd on a play he really thought was a home run: he admired it a few moments, and then after being thrown out on an ill-advised attempt to hustle to 2nd, was still giving the home run signal. On the replay the ball didn't seem to come close, but the Tigers asked for a review anyway, and I'm sure it couldn't possibly have been to make Miguel look better. Regardless, he absolutely crushed the ball to dead center, which warms the Tiger-fan portion of the heart.
Verlander pitched a good, almost better than good game, despite being tormented by Rajai Davis insisting on getting on base in front of him in the 9th spot. Verlander says it's because he saw some old pictures of himself 10 minutes before he warmed up, and noticed a difference. I know the feeling. In Verlander's case, it was a difference in his arm action. He knew what to do: "I went out and tried to throw the way that I used to throw," which I guess inspired Joe Nathan to try to close like he used to close.
Tonight Rick Porcello gets his first start since the All-Star break, following up on a sharp 1-run, 7-inning outing against Kansas City. His counterpart, rookie Chase Anderson, has lost 4 in a row (with a 5.03 ERA) after a strong start.
In other news, Detroit rookie pitcher and possible trade bait Drew VerHagen has been placed on the AAA disabled list with a lower back strain.
Today's Let's Not Have the 8 Hitter Getting On Base So Much Lineup:
Jackson, CF
Kinsler 2B
Cabrera, 3B
V Martinez, 1B
JD Martinez, LF
Hunter, RF
Holaday, C
Suarez, SS
Porcello, P
Miggy at the hot corner again. Porcello is due; after starting his career 2-for-5, he has gone into a 2-for-14 slump at the plate.