Game 2014.89 Postgame: Tigers 2, Royals 1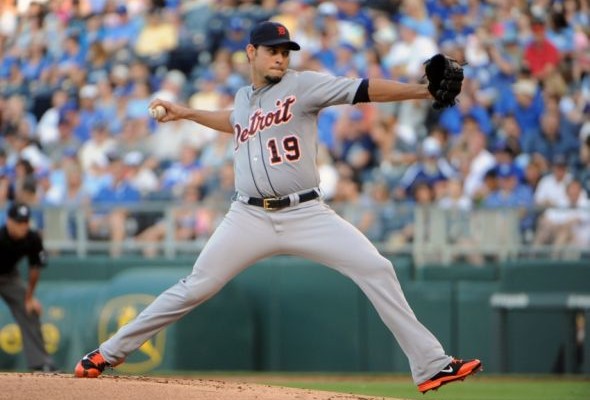 These last two wins have been impressive. The night after the Tigers put up a season high in runs scored, they beat the Royals 2-1 behind a masterful performance from Sanchez and a good enough one from the bullpen.
Though Sanchez gave up 8 hits, he didn't walk a single batter, and twice stranded runners at 2nd with less than 1 out. Joba and Nathan did a good job of emptying the liquor cabinets and Tums around the homes of the DTW faithful, but they each escaped 2 on, 1 out jams, to shut the door. A batter interference call in the 8th likely preserved the lead, but those sort of things go your way when you are playing well.
It's interesting to note that Sanchez was only at 90 pitches after 7, and still pulled for JobaJoe, which reinforces the 8th inning 9th inning guy MO. I don't agree with it, but it worked last night.
The Tigers managed only 5 hits off of Danny Duffy, which sounds ridiculous for a team who saw most of its lineup put up 5 hits the previous night. But there is nothing to be ashamed of – Duffy can pitch. He's having a career year across the board, and at 26 he may have figured out this whole "art of pitching" thing. The curve down and in on Cabrera to K him in the 1st was nasty. I'm not really sure why Duffy was pulled (I didn't watch the end of the game, maybe he had a minor injury), though the Royals bullpen held the Tigers hit-less over the final three innings.
Ausmus left in the 2nd with flu-like symptoms. Ausmus didn't leave the park, which leads me to believe that this is akin to going to the "nurse's office" in high school when you forgot to study for an exam. I think Danny Duffy was confusing Ausmus so much that he just wanted out of there. Also, please help me understand – when it's not the flu, what is it? Why don't we just say he has the flu? What is the mysterious flu-like disease that is so prevalent?
How great was that Holaday sacrifice bunt? I love that guy.
Anyway, the Tigers have now matched their season best 15 games over .500 (thank you SL), and have nearly matched their 7 game lead from mid-May. Man would it be great to go into the AS break on a sweep, and knowing that the Tigers have fought all the way back from the 9-20 valley to get to two games better. Regardless, this is the team we thought we had. Or at least they are playing like it for now.
**********
Kinsler to replace VMart on the All-Star roster. Hopefully VMart will be ready after the break.