Why is it that people keep insisting that Comerica Park is a great park for doubles? Is it the large centerfield? The huge-mongous gaps between the outfielders? I just don't know but it just ain't true but now even the general manager is saying it.
John Lowe wrote about the Tigers lack of doubles as an indictment of the offense. I can't really argue that point as the Tigers ranked 30th in MLB with only 245 doubles. That isn't good at all.
What I will take issue with is that the number was remarkable because of their home ballpark. Lowe cites the fact that it was strange that the Tigers had more doubles on the road than at home. He quotes Dave Dombrowski on the subject as well:
"When you talk about the Tigers and our ability not to score runs and not hit the way we should, it's the lack of doubles," Dombrowski said. "We have a ballpark that is conducive to a doubles-hitting club. It has tremendous gaps."
But here's the rub, Comerica Park is a bad park for doubles.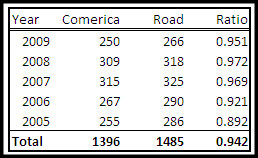 The table shows the number of doubles hit by the Tigers and their opponents each year at Comerica Park, and on the road (don't forget back in 2009 the Tigers had one extra road game). For each of the last 5 years – and I didn't go back further because I think the point has been made – more doubles are hit other places than at Comerica.
The ratio, more commonly referred to as a park factor, routinely puts Comerica Park in the bottom third in the majors in terms of doubles. A value of 1 would be neutral, values greater than 1 mean the park would be favorable and values less than one mean it is unfavorable. Over the last 5 years it's been about 6% harder to hit a double at Comerica park than at a typical stadium. So can we finally put to rest the notion that it is a good doubles ballpark?
For more on Comerica's outfield and other park factor goodness, you may want to check out these posts from the archives: