Game 2009.007: Rangers at Tigers
PREGAME: The Tigers look for a series sweep of the Texas Rangers this Easter Sunday. The Rangers mashed Cleveland pitching but haven't been able to muster much offense against the Tigers starters. Today it will be Edwin Jackson making his second start of the season. His first effort was wasted by the bullpen as he pounded the strike zone (67.4% strikes) en route to a 7.1 inning, 89 pitch start.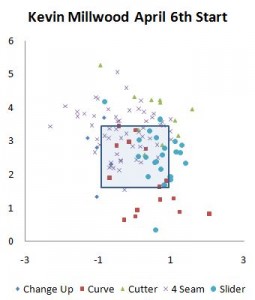 Kevin Millwood pitches for the Rangers. He held Cleveland to 1 run in 7 innings on 5 hits, a walk, and 5 K's. He went with a fastball heavy repertoire (91MPH 4 seam, 90MPH 2 seam), and didn't seem to get the ball down that well. Still, the results were impressive. Hopefully if he keeps the ball up against the Tigers, they'll either layoff it or hammer it.
Game Time 1:05
Texas vs. Detroit – April 12, 2009 | MLB.com: Gameday
POSTGAME: It's a good day to be named Brandon. Inge of course due to his 4th homer (and career number 100) to start the 8th inning comeback and his 2 out RBI single to cap it. Plus he threw in a slick play on a bunt to start the 9th. Part of the reason that the Tigers only needed to come down by 4 is because Brandon Lyon came on and retired 6 straight batters on 17 pitches. It was a very nice bounce back outing, and only his second since he blew Edwin Jackson's last start.
As for Jackson, he wasn't as sharp as his last outing, but mostly effective. He pitched out of a big jam in the 5th and in the 6th inning he retired the side on 10 pitches, mostly 95mph+ fastballs to put a nice cap on his day.
Kevin Millwood was frustratingly good. It was a steady diet of 89 mph fastballs and curves that had the Tigers completely fooled.
Fernando Rodney picked up the save on 5 pitches (and the previously mentioned nice play by Inge)
Placido Polanco seems to have his stroke going after a slow spring
A couple of awful at-bats by Magglio Ordonez and Gerald Laird in that 8th inning. Fortunately the rest of the team picked them up.
Speaking of which, how about the struggling Carlos Guillen lacing a two strike double down the line?