Some of my Tiger blogging brethren have clever names for their link round up posts, like Bless You Boys "Like Stripes on the fur coat of a Tiger" or Mack Avenue Tigers "Bunt Singles" or Roar of the Tigers "Pug Marks." Here's my foray and we'll call it Junkballing:
Baserunning
Mario Impemba notes that Jim Leyland is emphasizing baserunning this season.
This spring, the focus has been on making the Tigers a better team on the bases. Not necessarily faster (that's not possible according to Leyland), but better. "When you don't have a lot of speed, you have to emphasize better base running," he said. "We've worked on secondary leads a lot down here."
Detroit Tiger Tales took an in depth look at baserunning and found that only Curtis Granderson ranked in the top 25 in baseball last season. And there wasn't anyone close to Granderson on the team. In fact of this year's roster, only Edgar Renteria, Gary Sheffield and Brandon Inge rated above average.
Projections
Baseball Musings has been taking a team by team look at starting rotations and the Tigers were up today. Pinto notes that the starters all project to be decent and eat a lot of innings. He also notes that as a group they do a good job keeping the ball in the park.
Meanwhile, Lee has been gathering various projections and surveying fans as to the Tigers offensive outlook. He posted the results today. The fans were considerably more optimistic than the computers for Curtis Granderson and Gary Sheffield. They were marginally more positive than the computers for Placido Polanco and Carlos Guillen. But were quite reasonable for the rest of the team. Considering that the bulk of the voters were Tigers fans, that's not too bad. And if ever there was a case for intangibles I think Granderson would be the poster child.
Blocking pitches
A study was done recently using pitch f/x data to see how catchers rated when it came to blocking balls in the dirt. Tigers fans got used to seeing a lot more of Pudge's back as he chased down wild pitches and passed balls. It turns out it wasn't an illusion. Rodriguez was dead last in blocking only 68% of pitches in the dirt. On the other end of the spectrum were the likes of Jason Varitek and Brad Ausmus who blocked 92% of pitches. Mike Rabelo was at 82% if you're interested. (h/t Inside the Book)
The Dugout
The Dugout takes on the Inge situation…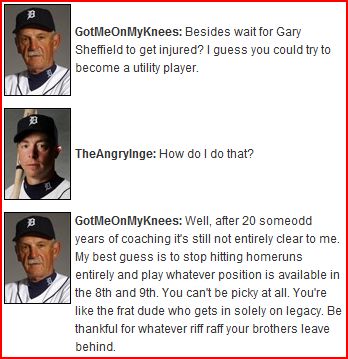 The game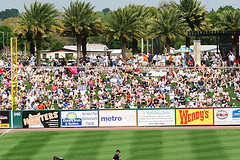 A beautiful Florida day – credit Roger DeWitt
Oh yeah, the Tigers played the Yankees today. Justin Verlander got hit pretty hard, but he was "working on stuff" so no worries apparently. Also, Curtis Granderson got jiggy with it (do people still get jiggy with it?) and hit two bombs – one off of Joba Chamberlain, and a triple. The scene and atmosphere at the game had Lynn Henning pretty excited, and by the looks of the berm I can see why.