Realish, live, Tigers baseball today. It's the annual spring training kickoff against Florida Southern. The game is 1:05pm. Todd Jones gets the start, and most of the regulars will be playing for only an inning or two. There's no broadcast, but there is a live box score at the Florida Southern site.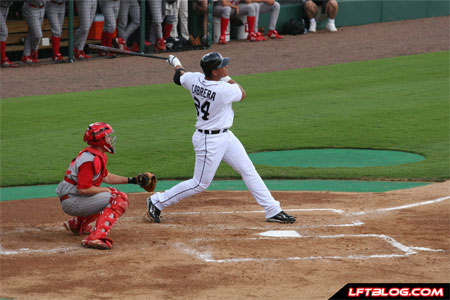 POSTGAME: Well, the offense seems to work. The above photo was taken by Deran of Lakeland Flying Tigers Blog (click the picture for more from today's game) and it is Miguel Cabrera smacking a missile to center field. The ball hit off the top of the batter's eye which is located beyond a fence that is 420 feet from home plate.
It was the second homer of the inning following a two run Placido Polanco shot. The Tigers offense rolled up 17 runs including a solo homer from the beleaguered Brandon Inge. Mike Hollimon, my choice for utility infielder I'll have you know, hit a 3 run jack of his own, to go with a double. In all the Tigers had 5 dingers with Scott Sizemore adding one to his two walks.
Jeff Larish had two hits and two walks while Freddy Guzman had a 3 for 4 day with a triple.
Jordan Tata was charged with all 4 runs in 1 2/3 innings and he didn't help his cause with 3 walks.
Yes, the Tigers are projected to have one of the best teams in the majors while Florida Southern is a college. The Tigers were supposed to win big. I'm just happy to have a post game report to do, and I'm happy that the good guys did what they were supposed to.