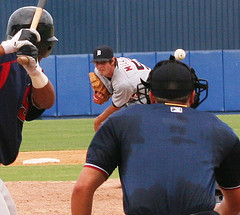 credit Roger DeWitt
Miller Time
John Sickels has another prospect smackdown, this time it is Andrew Miller vs. Adam Miller. Sickels gives a very slight edge to Adam Miller.
Maybe a SLIGHT edge on intangibles for Adam Miller, Andrew gets a slight edge on tools, Adam gets a slight edge on current polish and performance, even on projection. I rated Adam at Number Six on my pitching prospect list, and Andrew at Number Seven. It's really, really close but overall I think Adam is just a HAIR better.
What's up with Leyland?
Apparently Jim Leyland doesn't want to talk about Mike Maroth not being on the playoff roster. I can't blame him because that was a long time ago. But it appears to be a sore subject and I'm not sure why.
"That's kind of a sore subject with me," a testy Leyland said when asked if the Maroth issue had been resolved this spring. "I don't think that in my opinion, he was playoff-pitching fit. I guess that's the best way to say it. I don't want to get into it, but I've read some comments, I know it was disappointing and everything for him, but, particularly with his situation, he really wasn't a relief pitcher."
I don't remember Mike Maroth ever making any comments in the press that criticized or slighted Leyland at all, so I'm really not sure where this is coming from. Maroth has always struck me as a team player, but anyone in that situation would be disappointed. Heck, while I didn't think he should have been on the roster, I was disappointed for him.

Bad Trades
Joe Posanski writes in his blog about his 10 favorite bad trades. There isn't a Tiger trade on the list, but the trade that topped his list was a 3 way deal in which the Royals essentially traded Jermaine Dye for current Tiger fan-least-favorite Neifi Perez.
Tiger Stadium proposal
Crains Detroit features what the Old Tiger Stadium Conservancy plans for Tiger Stadium. If includes keeping most of the field intact, relocating the Michigan Sports Hall of Fame, and commercial and residential developments. It sounds great if it all comes to fruition.
Miscellaney