Game 2016.43: Rays at Tigers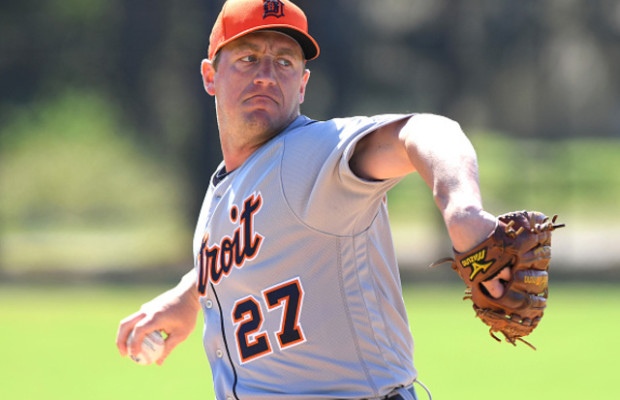 A few notes about the Second Inning (games 19-36):
– The Tigers went 6-12, marred by losing 11/12 at one point in time (I think we all remember that).
– The Hitters posted a slash line of .248/.314/.397 for an OPS of .711.
– The Pitchers posted an ERA of 5.25 with 121 Ks and 54 walks in 154 1/3 innings.
– Cabrera's line during that period: .309/.390/.441 with an OPS of .831 and 5/21 hits were XBH.
– Here is the bullpens' ERA & WHIP (most of the guys) during that time. ERA is dependent on a number of factors that the pitcher doesn't control (like RBIs offensively) and FIP is a better measure (can't get that easily), but with these gaudy figures, it really doesn't matter. Numbers in parenthesis are their career WHIPs.
Kyle Ryan: 3.00/1.50 (1.35)
Drew Verhagen: 5.87/1.67 (1.44)
Justin Wilson: 9.45/1.80 (1.21)
Mark Lowe: 15.19/1.88 (1.40) – what's incredible about Lowe is that of the 7 hits he gave up, 4 of them were HRs.
Alex Wilson: 7.04/1.56 (1.15)
Francisco Rodriguez: 1.69/1.31 (1.14)
So you had this amazing phenomenon where, based on WHIP (and likely several other key metrics) EVERY pitcher pitched worse, and mostly significantly worse, than his career average. Heck, you may be hard pressed to find a stretch that bad for Wilson, Wilson, and Lowe. All at a time when the offense was really bad too (the team OPS for the season is .751).
You could interpret this in two ways – 1) Ausmus lost the clubhouse. The team got into a funk and Ausmus couldn't motivate anyone to get out of it. Or 2) the team played about as poorly in every facet of the game possible.  As far as starters go – Zimmerman and Verlander were solid in the second inning Sanchez, Fulmer, and Pelfrey had ERAs of 5.11/6.00/7.29 during that stretch.
With just slightly better bullpen pitching the Tigers win 2-3 more games during that stretch, and if the bullpen pitches like history says it should, we are probably closer to .500 for the Second Inning and are a few games over .500 right now.
Anyway, Zimmermann gets the rock to try and lead the Tigers to a series win today. Baseball Reference game preview here.
2B Ian Kinsler
RF J.D. Martinez
1B Miguel Cabrera
DH Victor Martinez
3B Nick Castellanos
LF Steven Moya
CF Cameron Maybin
C Jarrod Saltalamachhia
SS Andrew Romine