Game 2015.49: Tigers at Angels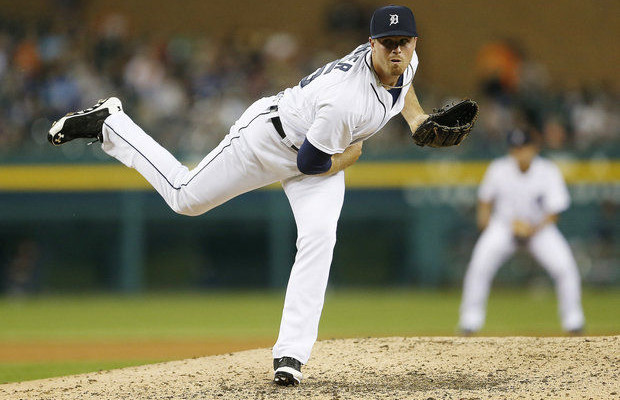 The Tigers exploded for 3 runs yesterday, which was enough to hold off the A's for a 3-2 victory and series win. 4 runs in 3 games isn't the way I would have called it, but a series win is a series win. This doesn't do much, however, to dampen the loud concerns regarding this offense.
I know I mentioned last week that the dearth of run production emanates from the 4 hole, but the Tigers have now slipped to 8th in the AL in runs scored. Not a good place to be considering Sanchez's struggles and the inexperience of the back end of our rotation.
Speaking of rotation, I thought it might be fun to check in on a few old Tigers pitchers. Let's see what they are up to!
Max Scherzer is enjoying his time in the NL, and is likely the front runner for NL Cy Young 1/3 of the way into the season. Scherzer is currently cruising along with a 6-3 record, 1.51 ERA (yeah, that's right), absurd .879 WHIP, and even more absurd 10.7 K/9. Washington paid handsomely for Scherzer, but I think they are okay with it right now.
Scherzer's rotation mate, Doug Fister, has gotten off to a rough start this year after a 16-6/2.41 ERA 2014 that saw him finish 8th in Cy Young balloting (how good are NL pitchers/bad are NL hitters?). Fister is posting a 4.31 ERA (4.68 FIP) and 1.412 WHIP through 7 starts. Those numbers would be career worsts for him, so I expect him to rebound. The 3 guys we got in return for Fister? Ian Krol, who has become a marginal reliever, Steve Lombardozzi, who never played for the Tigers, and Robbie Ray, who was flipped for Shane Greene. Greene has been a pleasant surprise and costs 1/23 what Fister does, so overall not bad.
Drew Smyly got off to another promising start after a brilliant back half of the season with Tampa Bay last year (remember he was flipped there when we sent AJax to Sea to get Price at the trade deadline), but unfortunately has been shelved for the season with a shoulder injury. The kid had a 2.70 ERA and .78 WHIP through 3 starts this season before he was injured. He's got a bright future in front of him.
I don't know that I'd change anything that we've done so far, I mean, there was just no way we could keep Max with the Cabrera/Price/Verlander salaries on the books. But it's always interesting to see how everyone is doing.
On to LAA.
Buck Farmer gets the spot start tonight for Kyle Lobstein. Farmer started two games last year, appeared in two others, and generally got drilled (though he did K 11 in 9.1 IP) so tonight could be a little bit of a ride. He's been great this year at Toledo – 5-1, 2.98 ERA, .215 average allowed, 1.17 WHIP, and a 9 k/9 ratio. So let's all keep hope alive.
Little different lineup tonight.
1. Davis, CF
2. Kinsler, 2B
3. Cabrera, 1B
4. Cespedes, LF
5. Martinez, RF
6. Castellanos, 3B
7. McCann, C
8. Iglesias, SS
9. Gose, CF