Game 2014.155: Tigers at Royals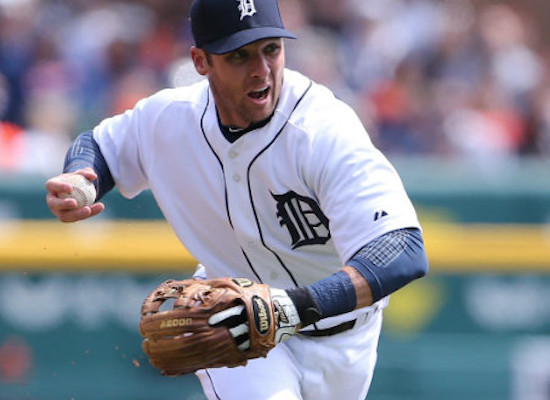 Yesterday's 3-2 victory had a bit of everything going, turning points and momentum shifts all over the place, the baseball gods frowning upon first one and then the other team. It was really something. Good thing the Tigers won, or I'd be sickened by it and unable to speak of it.
It scher was a maxtastically pitched game (Zer Kommissar was in town) on both sides of the shields, one of those james we'll long remember for about a week. The play that changed everything was the confusing and controversial one that, when the dust had cleared, amounted to no controversy and confusion whatsoever. Salvador Perez didn't tag up, his bad, our good. Someone saw this and cried out at the injustice! (Who?) (Hernan Perez is our hero, as you know by now.) Even so, a small book could be written on it, complicated as it was. Why did Kinsler throw, why didn't Suarez catch, etc. etc. etc.. It still took a lot to turn a mere second chance into a win, though. Pressure pitching from Scherzer, the 4-pitch walk to Suarez, a Shields wild pitch, the huge pinch hit from Collins, a bloop from Rajai, and then some bullpen rollercoaster. Oh, and Hunter's earlier solo shot to start off the scoring didn't hurt. (Does he have to go?)
Now it's Rick Porcello vs. Jeremy Guthrie. I think Porcello has been quite good lately, but unlucky. Give him some runs, and maybe we have a sweep and a 3.5 game lead with 7 to play. That is a COMMANDING lead, a clinch waiting to happen. But don't put it past the Royals to win that suspended game in Cleveland. Those guys are built for that sort of improbability.
Speaking of luck, as in "Luck" (W-L as compared to pythW-L), if the AL playoff picture was based on it, it would be the Orioles vs. the White Sox in the wild card game for a chance to face the Yankees (Royals and Angels would be the other two teams). Some say that the Luck "stat" reflects on a team's manager. If that is so, Bob Melvin and Legendary Lloyd are really bad, and Brad Ausmus is pretty good. You do have to like Ausmus's moves in yesterday's game. Also noticed as I looked over that sort of team stats (before yesterday's game):
* Last 10, Last 20, Last 30 – Detroit is AL Top 3 in W-L
* Tigers are 48-38 (2nd AL behind the Orioles) against >.500 teams (and now 49-38)
* If pythW-L determined playoff qualification, it would be a Los Angeles-Seattle wild card winner to face Oakland (plus DET & BAL)
* On the AL playoffs scene, Detroit really sticks out like a sore thumb in Runs Allowed; not what we would've expected
After game one of this series, I wanted to joke about how Raul Ibanez's contract must stipulate that he plays not for one team, but for any team that happens to be playing the Tigers. (So there you go.) I mean, how many times have I seen him bat against the Tigers for how many teams (10? 20?) in 2014 alone? But anyway, you know, I've always thought Ibanez kinda looked like a guy who breaks kneecaps with baseball bats for a living, the non-baseball player kind. So I was amazed at what an articulate and mellow sort of guy he showed himself to be in the in-game interview during the broadcast of Saturday's game. Just goes to show ya.
It has occurred to me that if circumstances were such that the Tigers had to choose between keeping either Miguel Cabrera or Victor Martinez, I (in my imagined role as the decision-maker) would be hard-pressed to let Victor go. The consummate professional hitter, the guy who NEVER gives an at bat away. It's got to be a good influence, on top of the actual game results. When did the Tigers start winning, really winning? 2011. I rest my case.
Aside from the fact that Alex Avila is a nice guy for whom we wish nothing but the best, his continued absence due to lingering post-concussion-like symptoms is not good news. If he's really out for the season, he will be missed. And now I hear that Anibal Sanchez might be back soon but then only in a relief role, an idea that does not impress or encourage me at all.
I'm here to tell you that I've liked Tyler Collins since ST 2013. I want him on the team in 2015. But where? Can he play 3B?
We see more and more why it's good to have Andrew Romine around and why he's drawn so many starts lately. And then we're reminded why it's good to have Eugenio Suarez around and why there ought to be a special DH-for-SS position in baseball. As long as Romine could pinch-run for Suarez as a special PR-for-DH-for-SS.
I stand corrected on an earlier comment about Joe Nathan. 7 blown saves is not only bad, but tied for MLB-worst. Part of the reason for that, of course, is that most closers won't get a chance to blow 7 saves. Track record (and megabucks investment in it), don't you know. Faith and sticking with a guy can pay off sometimes. Sometimes not. We've given up on Nathan, but then again, we also gave up on Phil Coke. We must also remember that leads and games almost blown… were not blown. Joe got the three outs with zero runs yesterday. Just because I don't know how doesn't mean I don't appreciate it.
All right. A win today and a sweep and we can breathe. But not celebrate. A small toast, maybe. Then it's back to business, the serious, grueling, blood sweat and tears business of willing the Detroit Tigers to win. I don't think we get enough recognition for that. Someone oughta say something.