Game 2014.144: Royals at Tigers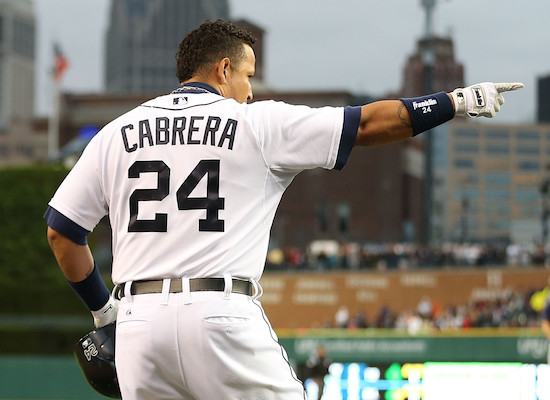 Don't worry about whether the Detroit Tigers are going to make the playoffs, because the playoffs have already begun, if not already at the very beginning of the month, then certainly with this 3-game showdown against the Kansas City Royals. The Tigers have already spent the one series loss they can afford; from here on out it's "brink of elimination" with every series as a game. If they can manage to run this gauntlet, they get to do it all over again in October. But that's what we want. If we don't get it, well, at least we had these playoffs, and I would rather that they go on and not fizzle out 2-3 weeks before season's end.
Does Detroit really belong in the conversation along with Baltimore, the Los Angeles Angels, and Oakland as an AL team that can beat the best the NL can offer? The first two in the Giants series added nothing to my confidence in that regard. Last night… well, that was better, much better. OK, kind of better. I'll let Coleman have the glowing review of Lobstein for their next turns in the rotation. I'll only say that Rock Lobster/K-Lob/(ugh)Lobber was impressive and deserves a beach party in his honor for a much-needed apply-the-tourniquet outing.
Tigers pitching/defense Games 126-142: 5.04 ERA, 1.57 WHIP, .292 BAA and 35% of those hits for extra bases. 98 runs allowed, 14 unearned, 1 of 12 CS.
Royals comparison (Games 125-141): 3.04 ERA, 1.22 WHIP, .248 BAA and 36% of those hits for extra bases, 63 runs allowed, 11 unearned (??), 5 of 18 CS.
Tigers offense Games 126-142: 5.6 runs per game, 307/356/444/800. Every Tigers position starter save Eugenio Suarez has a (full season) higher than league average XBH/PA%.  That is outstanding well beyond a comparison with the Royals.
Royals comparison:  3.2 runs per game, 232/284/352/636. 20 stolen bases.
Identical 9-8 records in those spans. We're afraid of these guys? The Tigers do hold a 9-4 series lead so far. On the other hand, there's pitching.
Baseball Reference Game Preview
Jeremy Guthrie vs. Justin Verlander
Guthrie can frustrate the Tigers. Coincidentally, so can Verlander (going for career win #150). Justin's career splits show September to be an outstanding month for him, in line with his overall excellence (April and August seem to be the rough spots). This seems to be talked about every year, with some justification. The old "time for him to step up [again]" thing. Could actually happen, eh?
Miggy and Victor are en fuego, as they say in Washington. What can possibly go wrong here?