Game 2014.76: Astros 4, Tigers 3 (11 innings)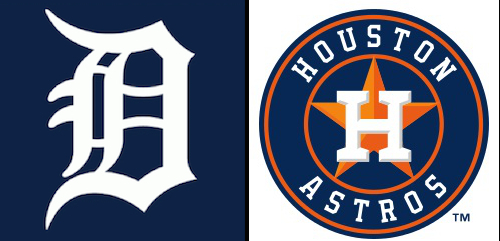 The Tigers ride into Houston on the back of a 7-game winning streak, without a scrap of Zubaz on, according to Torii Hunter (via Only Tiger Fan in Mississippi). Because you can't be streaking, if you're wearing Zubazzes.
Anyway, here are the scheduled times/starters for the series:
Detroit Tigers (43-32) at Houston Astros (34-46)
Fri 6/27   8:10 Justin Verlander (6-7 4.82) vs. Brad Peacock (2-4 4.50)

Sat 6/28  4:10 Max Scherzer (9-3 3.71) vs. Dallas Keuchel (L) (8-5 2.78)

Sun 6/29 2:10 Drew Smyly (4-6 3.19) vs. Scott Feldman (3-5 4.00)
Every game at a different time, so there's something here for every time zone.
The Tigers have gone from a team struggling to stay out of last place to a team with an easy 4 1/2 game lead and the 2nd best record in the league, all in the time since my last turn in the Game Post rotation–primarily because of the Tiger rotation.
The last time the Tigers played Houston they took 3 of 4, all but the start of the dreaded Cy Keuchel, who turned out to be just starting a brilliant run which will likely land him in the All-Star game. 24-yr old Jose Altuve continues to develop into a legitimate star (.334, 30 stolen bases), and 24-yr old George Springer adds power (15 HR, 40 RBI). The Astros are giving the fans reason for optimism, despite their 34-46 record.
Today's Streaking Lineup:
Kinsler, 2B
Hunter, RF
Cabrera, 1B
V Martinez, DH
JD Martinez LF
Castellanos, 3B
Jackson, CF
Avila, C
Suarez, SS