Game 2014.77: Tigers 4, Astros 3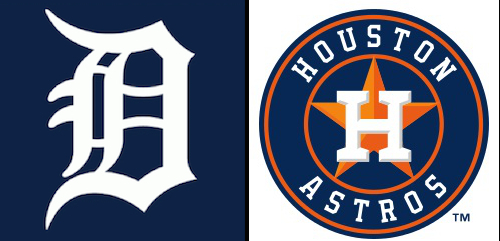 Perhaps Jason Castro did the Tigers a favor last night with his walk off home run.  Four of the bullpen arms had been there and gone, and eventually someone was going to have to go multiple innings, and that fell to Blaine Hardy, who wasn't quite up to the task.
Not that it mattered: the Tigers looked like they could have played another 9 without scoring, so maybe Castro saved the rest of the pen from being used up too. After Castellanos homered in the 4th, the Tigers managed only 1 hit in the next 7 innings; that's 1-for-24 (.042) for those keeping score at home. Of course they could have hoped for another error-walk-error combo, but that could have taken a while.
And how about that Altuve guy? He either knocked in or scored the first 3 runs of the game, went 4-for-5, and stole 2 bases–including home when Alex Avila made an ill-advised pickoff attempt at first. Now there is some legitimate cap-tipping material (Altuve, not Avila).
We won't discuss the Detroit base running. At least not today.
The Tigers get a break today, and face Brett Oberholtzer instead of the originally scheduled Dallas Keuchel. Oberholtzer is also a lefty, but not a Cy (2-6 4.76).
Today's Yay, No Keuchel Lineup:
Davis, CF
Kinsler, 2B
Cabrera, DH
V Martinez, 1B
JD Martinez LF
Hunter, RF
Castellanos, 3B
Holaday, C
Suarez, SS
Holaday gets a start against the lefty after the long night for Avila behind the plate, Miggy gets a "rest"at DH, which usually doesn't work so well, and maybe Davis can raise a little havoc on the bases. Tigers have been short on havoc lately.