Game 2014.69 Postgame: Tigers 2, Royals 1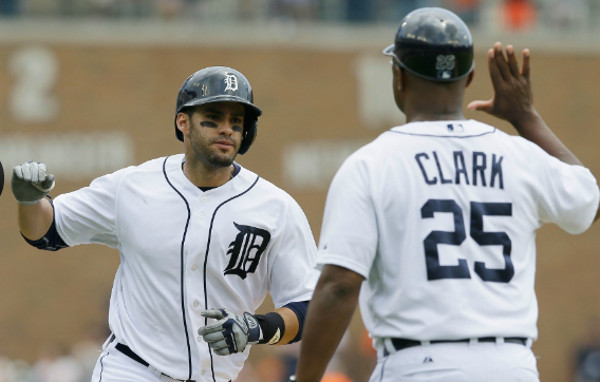 I have to admit it felt pretty good to win that one, especially since the game started for me with a creeping feeling that Danny Duffy was going to no-hit the Tigers.
As predicted, JD was the man of the hour again, hitting his 3rd home run of the series and providing the winning run. As Suarez' flame has quietly dimmed, JD's continues to burn, and he is the Another Guy of the hour. As in, there's Cabrera and V-Mart, but we need Another Guy to hit.
Anibal Sanchez continúes to be the Ace of the staff, and Joba Chamberlain pitched a quick and efficient 8th, and Joe Nathan had a flashback 3-strikeout 9th inning. Billy Butler was impressed:
"That looked like the Joe Nathan I've faced for years," Butler said. "All those times with the Twins and then with Texas — the one with a few hundred saves and all those All-Star games. He's had some tough moments in his career, but that looked like the same guy today.
If just for an afternoon the Tigers looked like a team that was dominant from the mound.
*****
Maybe Miguel is breaking out of his slump. He hit a deep double to left-center that knocked in the first Tiger run. Unfortunately, he took the opportunity to stand and admire his not-a-home-run. Nevermind, there was no harm. Not until the next play when he got picked off from right field as he was walking back to 2nd with his head down. If you watched the replay, Victor stopped running about halfway to first and looked like he was trying to get Miggy's attention. Hopefully Victor had a word or two with Miguel after the game; he's probably the only one who could. Cabrera doesn't look like his head is always in the game lately. And yes, I am holding him to a higher standard than other players.
*****
I was right in the pre-game: Bryan Holaday really doesn't get no respect. Holaday was rung up on two consecutive ball four pitches, the second of which provided a Great Moment in Lip Reading. His last time up he bunted for a single, and ended up on 2nd when an attempt was unwisely made to get him at 1st. I'll throw this one out there to the audience: who was the last Tiger who bunted as well as Holaday does?