PREGAME: It will be Nate Robertson and Fausto Carmona today as the Tigers try to extend their lead to 5 games. The Twins have an off day so there is no need to scoreboard watch.
Carmona has been inconsistent to say the least this season. He got so bad he was bumped al the way down to A ball. Still, he has held the Tigers to 2 runs in each of his 2 starts against them. Carmona has some extreme platoon splits (970 OPS for lefties, 615 OPS for righties) so I'd guess Leyland will tilt the lineup accordingly.
Robertson gets a second turn after pitching well for 4 innings against the Rays. Robertson providing competent innings this month could be a huge boost to the rotation.
As an aside, the Tigers have never been 11 games over .500 this season…
Cleveland vs. Detroit – September 3, 2009 | MLB.com: Gameday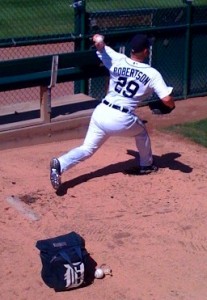 POSTGAME: At the last minute I decided to head down for this game, even though it was a day game after a night game, and I'm glad I did. A sweep and a 7 of their last 10 is a nice way to head out on the road.
Robertson looks like a new man, or at least like the guy that wore number 29 in 2006. He spun 6 shut out innings today with 4 K's and he only needed 80 pitches to do it. Whether or not it lasts remains to be seen, but in his 2 starts he's given the team a lift and with Washburn missing a start because of his knee, and Rick Porcello's mounting workload, an extra arm could become very valuable this last month of the season.
Zach Miner also was a big part of today's win, going the last 2.1 innings and only allowing a walk and a hit by pitch. Ni-Miner was the poor man's Seay-Lyon today. Ni struggled to put away hitters after getting 2 strikes on them, but Miner held firm until the offense could get that extra run.
And the offense needed the extra time. They only mustered 5 hits all afternoon, but one was a homer, and one was a triple with 2 men on. The last one was a leadoff double leading to the walk-off sacrifice fly (the 3rd sac fly for the team in the last 2 days).
Adam Everett with 3 walks today. That's the kind of thing that would make me nuts if the Tigers had been the ones issuing them, but kudos to Everett for getting on base 3 times.
Aubrey Huff hit his first ball deep to right-center, but that was the extent of the carry-over from his big night on Tuesday.
Ryan Raburn had an up and down game, or more specifically a down game that ended up. He fanned with a runner on 3rd and one out in the 7th. And he made a diving attempt that resulted in a double instead of a single when he couldn't come up with the ball in 8th. But he scored the winning run after leading off the 10th with a double and putting the whole inning in motion.