Adam Wilk was Detroit's 11th round pick from the 2009 draft. The left handed junior from Long Beach State was assigned to Oneonta where he fanned 34 and walked 5 in 37.1 innings spanning 7 starts. When Mauricio Robles was traded Wilk was part of the domino of promotions and he was bumped to West Michigan where he hasn't missed a beat posting the same gaudy peripherals in his first 3 starts for the Whitecaps. Wilk was kind enough to answer some questions for DTW.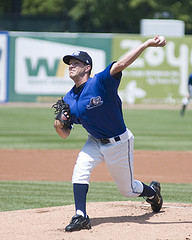 DTW: You signed quickly. How important was it for you to start playing right away?
AW: Thats right. I signed only a few days after the draft and was flying to Oneonta the next morning. It was very important for me to start right away. My college team did not make the playoffs so I had not been playing competitively since late May. I had been able to play catch and throw bullpens, but there was no competitive play. I was also very excited to get out and start my professional career.
DTW: What's your scouting report, what do you throw?
AW: I throw a five pitch mix. 4-seam fastball and 2-seam fastball, the curveball, changeup, and cut-fastball.
DTW: What has been the biggest adjustment to professional baseball?
AW: The biggest adjustment so far in professional baseball is playing everyday. In college we have games 4 days a week, practice the other 2, and then were required to have 1 day off of no baseball activity. That was a big day to relax and for me go to the beach and recuperate my body each week. But in professional baseball I am playing everyday, and starting every 5th day, rather than every 7th day in college. Another great thing though is that playing everyday allows you to get right back after it if the next day if your previous day was bad, rather than waiting sometimes one or two days like you had to in college.
DTW: You mentioned in a
TigsTown.com interview right after the draft
that you were interested in building strength to gain velocity. Does the organization have you on a program yet or is that more a task for the offseason.
AW: Right now we are on a strength maintenance program. They want us to maintain our strength during the season therefore we have tailored lifts to do that. Once we are in the offseason is when we have our strength building program to put on muscle and weight.
DTW: In your first 10 starts you've dominated despite being bumped up to West Michigan. What's been the key to your early success?
AW: The biggest thing for me being a left-handed pitcher that does not have really overpowering stuff is to keep the ball down. Pitching down is the key for all pitchers but especially for pitchers who don't throw extremely hard it takes keeping the ball down very consistently to be successful. The other big thing to my success so far is throwing strikes. Strikes early in the count and many strikes gives me the advantage over the hitter when they are consistently in the hole, rather than me having to pitch in hitter's counts.
DTW: Is there another professional pitcher that you've modeled yourself after.
AW: I love watching left handed pitchers. I feel that I can pick something up from many of them by just watching how they pitch. There are a few left handers though that I have watched a lot while growing up. I always went to Angel games when Jarrod Washburn pitched because the stadium was very close to where I lived. I watched Tom Glavine many times, Andy Pettite, Mark Mulder, and Jamie Moyer are just a few to name. But I always watch left handed pitchers.
Thanks to Adam for taking the time and here's hoping for his continued success as he progresses through the Tigers system.