A pile of links on the eve of the All Star break…
If you find yourself a little bored with the Tigers game today, you can always flip over to ESPN and catch Scott Sizemore, the lone Tigers representative in the All Star Future's game. With Polanco on the last year of his contract and Sizemore hitting a combined 300/392/508 line between Erie and Toledo it's reasonable that he may be the Tigers second baseman next year. But Keith Law doesn't seem to be that high or low on him.
With Brandon Inge making the All Star team he will earn a $25,000 bonus. Really. Given Inge's career can you imagine that as a negotiating point? Granderson will also get $25K. There's no mention of what happens if Inge wins the home run derby but the consensus seems to be it doesn't mess up your swing.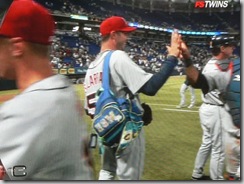 Before Armando Galarraga got knocked around on Saturday night, I was ready to explore a theory about the good luck charm that is the High School Musical backpack. It's the backpack that the relievers carry out to the bullpen full of treats and snacks and such and it is the responsibility of the least tenured rookie. Well, Fu-Te Ni has had the bag and he's pitched well, and then in the 16 inning game Armando Galarraga was the only man in the pen and had to carry it back, and followed it up with his best start. But Ni had a run charged to him last night and Galarraga had 4 so there goes that theory.
The interesting thing about Fu-Te Ni is that he seems to move around on the rubber when he faces righties as opposed to lefties. I've wondered why more pitchers wouldn't do this.
Carlos Guillen is set to begin a rehab assignment. He could equate to a mid season trade if he can return and be productive. I'd hope the Tigers aren't pinning al their hopes on Guillen, but it does make sense to take a look before giving up too much for a bat.
Rick Porcello won't pitch in the Yankees series after the All Star game. Luke French, Justin Verlander, and Edwin Jackson will start in the Bronx. Porcello's next start hasn't been announced. But he is blogging now.