Dontrelle's Debut
Pretty much everyone has beat me to this, but I still feel I should offer up something about Dontrelle Willis's first start of the year. There are a couple ways to approach the assessment.
You can look at a final line that included 10 hits and 2 walks in just under 5 innings and come away unimpressed or even discouraged. Especially when you look at the fact he only notched one swing and a miss.
Or you can look at the start in the context of last year when the strike zone proved to be a foreign land to Willis. That he only walked 2 in his time on the mound could be a step forward. And even when he missed the zone, he missed by reasonable amounts, like you'd see in a regular start.
Figure 1 Pitch Location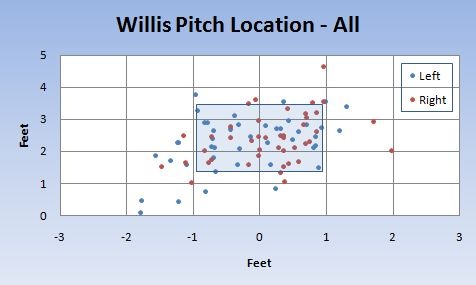 I'm encouraged in that I don't see him pitching scared. He came inside to both lefties and righties. I don't know if that is by design or a lack of control in the strike zone, but the absence of unintentional pitch-outs is encouraging.
With so much of Dontrelle's problems last year related to the inability to throw strikes (be it mental or physical) he had no chance of success. Efforts like Wednesday night where he's in and around the strike zone, and throwing the ball in stead of aiming it. His fastball averaged a shade over 90 and he threw a number in the 91-93 range.
| | | |
| --- | --- | --- |
| Pitch | Average Velocity | Count |
| CH | 85.8 | 18 |
| FF | 90.8 | 50 |
| SL | 81.4 | 18 |
There was considerable mechanical work done on Willis last year with simplifying his delivery and trying to find something more consistent. It didn't enhance things at all. The high leg kick is back and with it some inconsistency in release point. I don't know how much of an issue that plays, but I think this graph of release point is interesting so here it is.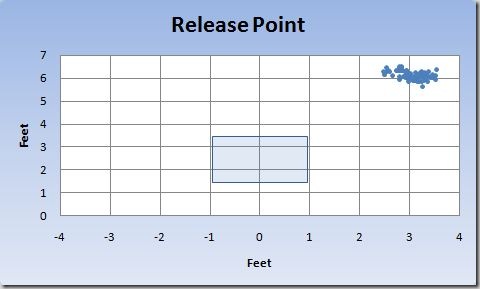 If we can say that the control problems are under control, at least the focus then turns to effectiveness. That is where Willis fell down in his debut start. He didn't miss bats, even when he was getting ahead of hitters (59% first pitch strikes). Willis wasn't particularly effective in 2007 and that was when he was right as he pitched a 1.6 WHIP that year. That his first start of 2009 looked to be an extension of that season wasn't encouraging.
I don't know if I'd call Dontrelle's outing good, but I would call it progress. He can now throw the ball over the plate. He knows it. The coaching staff knows it. The fans know it. Now it is a matter of whether or not he can be an effective big league pitcher.
Some other takes: