It seems as if calculating wins above replacement, or WAR, has become the cool thing to do this offseason. We've delved into WAR here in the past when evaluating contracts. Now Fangraphs has made WAR available to the masses. Detroit Tiger Tales has already taken a look at the 08 Tigers numbers. And now a call to action from Beyond the Boxscore has inspired me to project the 09 team numbers.

For now I'm focusing on the position players. What I've done is to use split the difference for the Bill James and Marcel projections for the 09 players for wOBA. Defensively I've used UZR/150 as the base, but in cases where there isn't a lot of data due to injury or position shifts, I've made my best guesses. When in doubt I've left players as average defensively, like Guillen in left or Santiago wherever he plays. For playing time, this was entirely subjective and the area that you'll most likely choose to disagree. That's okay. This is one guy's opinion and I certainly have no injury/effectiveness crystal ball. Heck, we don't even know who the 5th outfielder and other utility infielder will be at this point.
The table below has my projections as of the time of writing. I've also built the same spreadsheet in Google Docs that I will update as more information becomes available. This one is just prettier and then anybody commenting will be working off the same initial assumptions.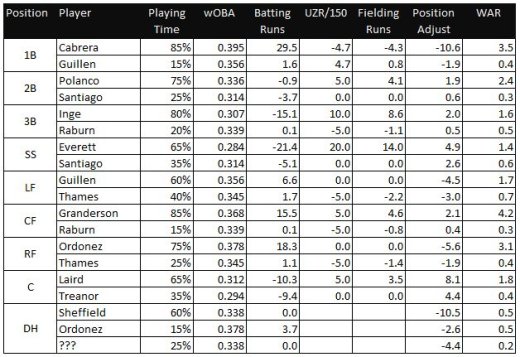 As for the calculations:
Batting Runs: (wOBA-.338)*700/1.15*Playing Time. This converts wOBA to runs by comparing it to league average and then factoring in playing time.
Fielding Runs: UZR/150*162/150*Playing Time. The UZR numbers adjusted to reflect projected games played
Position Adjustment: Position Adjustment*Playing Time. Not all positions are created equal. This accounts for that.
WAR: (Batting Runs+Fielding Runs+Position Adjustment)/10.5 + (2.5*Playing Time). This adds up all the runs and converts it to wins above or below average. The 2.5 is the win difference between an average player, and a replacement player.