From time to time this year (as time permits), I'll delve in to MLB.com's pitch f/x data to analyze a starters outing. Tonight we look at Jeremy Bonderman's start against the Kansas City Royals on April 3rd.
Pitch Mix
This season MLB.com started classifying pitches. This seems pretty convenient, but from what I've seen so far the classifications don't quite match. In the case of Jeremy Bonderman we know he throws both a 2 seam (sinker) and 4 seam fastball, a slider, and an occasional change. The data had Bonderman throwing a splitter, which looks to be a misclassification of his slider. Because of this, I did my own pitch classifications using K-means clustering and some judgment.
The table below shows his pitch mix and average velocity for the 87 pitches tracked by the system today.
	    n     mph
2seam       39   92.0 
4seam       25   92.6   
change       4   83.8  
slider      19   85.6   

It's not uncommon for Bonderman to rely heavily on his slider, to the tune of a third or more of his pitches typically. Today it was a mere 21%. And while categorizing the various fastballs can be hit and miss, Bondo's slider is pretty distinctive so I have to believe it isn't a classification issue.
The plot below shows the horizontal and vertical movement. Technically it's the difference between the actual pitch and a similarly thrown pitch without spin. Pitches can't technically rise, so the positive vertical movement is an indication of a resistance to sinking. Don't worry too much about the physics, but the graph is simply to show that the clustering of the pitches by movement is fairly accurate – especially with regard to the slider.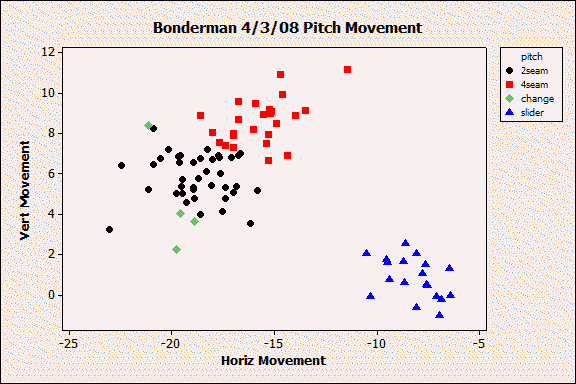 While there has been much talk of more change up use, it appeared to be pretty limited today and consistent with his use of it in the past.
First Inning
Yes, yes, Bonderman struggles in the first inning. But not today. One of the theories is that he throws too many fastballs. He didn't deviate today but had pretty good results. His pitch sequence in the first was:
2seam-4seam-2seam-4seam-slider-2seam-slider-2seam
But it worked because he was throwing it for strikes.
Location and Results
We can also see how Bonderman pitched to both right handers and left handers. From the graph below he was pretty effective staying away from left handers and staying down in the zone against right handers. Also, when pitching to righties he picked up a number of outs on pitches on the inner half of the plate. Bonderman's pitches tail in towards right handers meaning hitters were having to fight off those inside pitches.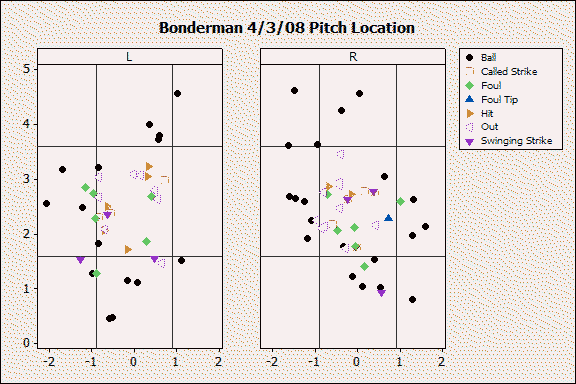 The other thing to note here is look at how selective the Royals were. There were very few swings at pitches outside of the strike zone – or at least far outside the strike zone. I wonder if there was a causal relationship between the chasing of pitches and the relatively low number of sliders.
Wearing down
Jeremy Bonderman was cruising early in the game, but in looking at the data it becomes clear that he ran out of steam. That shouldn't be at all surprising given how early it is in the year. The plot below is the speed of his 2 seam fastball as the game progressed.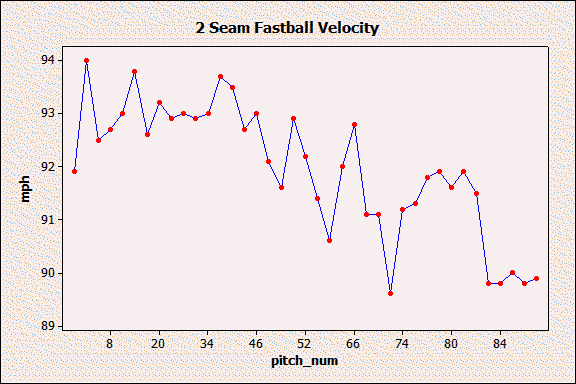 In fact, his last 5 pitches were pretty much identical. They were all 89 mph fastballs with very similar movement, and they showed an increasing tailing action. The same action that we saw when Bonderman was fighting his elbow late in the year. I'm not suggesting he's hurting, just that he was fighting to find anything that last inning.
Scouting
Now for those of you who saw the game, does the data mesh with reality? I was at work today and was only able to listen. Does the data make sense to those of you who saw the game?