Tigers Corner 2008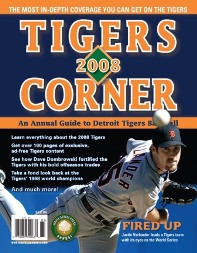 Hitting store shelves this week is Tigers Corner 2008. This is the second edition of the book/magazine/annual from Maple Street Press. It is edited by Gary Gillette of ESPN fame (ESPN.com contributor, Baseball Encyclopedia, etc.) so it definitely lends some credibility to the motley crew of Tigers bloggers who contributed articles.
Brian Borawski helped out with last year's version, and this year he invited myself, Lee Panas, Ian Casselberry, Matt Wallace, and Mike McClary to submit articles as well. So at the very least you know that the writers were passionate about the subject.
We join real writers (with apologies to Ian who is a real writer) like Bill Dow, Gillette himself, and David Laurila. The end product is actually quite impressive if I do say so myself. Keeping in mind that seeing my name in print is kind of a kick for a novice like me.
The book covers last season, as well as some deeper dives into Tigers history. It also looks forward with profiles of Rick Porcello and other Tigers prospects.
The table of contents is available at the Maple Street Press site, as well as ordering information. It is available on Amazon, but I understand there are some issues there with how it is classified and other things I don't full understand. If you're in the Detroit area I'm told it will be available at bookstores and I also saw it on the magazine rack at Kroger.