A different look at the Bonderman-Halladay Duel
Taking advantage of the enhanced gameday data once again, I'll take a look at Jeremy Bonderman's and Roy Halladay's awesome performances last night.
We'll start with Jeremy Bonderman. The table below shows the mix of pitches and results for Bonderman:

It was a little surprising to see that Jeremy Bonderman didn't miss that many bats last night, and none with his fastball. But what he did was induce a ton of weak contact. This was probably one of the biggest factors in keeping his pitch count so low.

For today's purposes I defined set 89MPH as the differentiator between Bonderman's fastball and his other pitches. Now one of the big questions around Jeremy Bonderman is his use of the change-up. Enhanced GameDay tracks information related to pitch trajectory. I'm still working on the interpretation, but I plotted the values provided and differentiated based on velocity.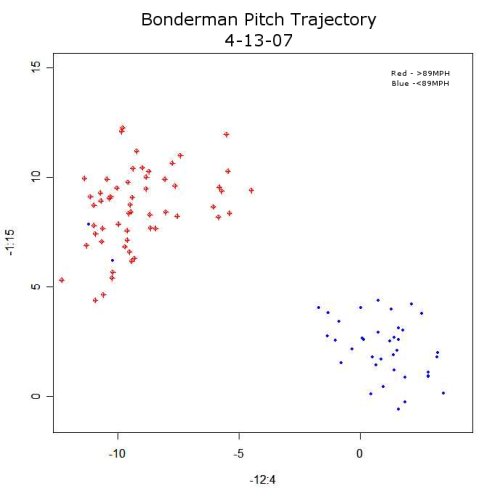 Without even understanding the representative scales, it's pretty easy to see what was a slider and what was a fastball. Assuming the change-up trajectory is similar to the fastball's, it appears that Bonderman only through 2 of them last night.
Next we'll take a look at where he was working.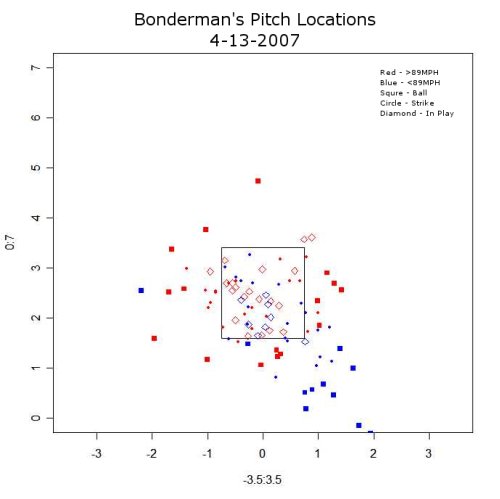 Surprisingly only a little more than half of Bonderman's pitches (52%) were in the strike zone. But he was getting ahead forcing some swings at the slider down and away.
As for Halladay, I won't hit the same level of detail. The table below is Halladay's pitch results for last night. It's nteresting to note that Tigers hitters only swung and missed twice last night.

But he was able to get away with not missing bats because of his absolute phobia of the top half of the strike zone. The Tigers were making contact last night, but only with the pitches that Halladay wanted them to.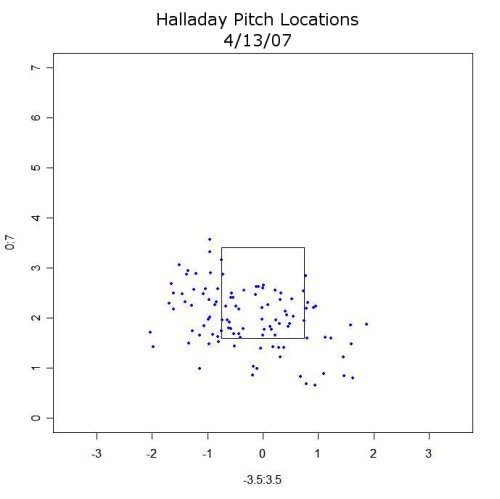 Both pitchers achieved nearly identical results, but did so with different arsenals. It was a joy to watch, even with an unfortunate ending for the Tigers.
Related: A different look at Joel Zumaya's Save