Tigerfest 2006
Just think if they were good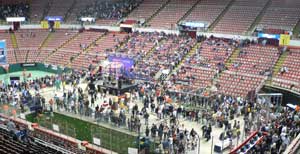 I took in Tigerfest today with my family. It was my first Tigerfest in 4 years, and I came away amazed at how much people love the Tigers. We parked at Grand Circus Park and took the people mover to Joe Louis Arena where we looked out and saw several thousand people waiting to get inside. This was 10 minutes before it was set to open. Since we had two little ones with us, we decided to just do another loop on the people mover rather than wait in the cold.
By the time we returned the crowd had entered the Joe, but there was still a 20 minute wait to even buy tickets. The support the Tigers receive is tremendous, and I can't help but wonder what things would be like in Detroit if they had given fans any reason to cheer in the last twelve years.

The players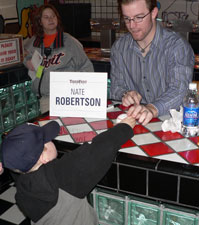 As for Fanfest itself the autographs were the big attraction. There were 5 stations, each with two players, open at all times. It was a crapshoot as to what player you'd get because the lines were typically 45 minutes and the players rotated every hour. We only ended up making it through two lines before the kids lost interest. My son loves to get autographs, but wasn't into waiting the lines. What struck me about the process is that the players really seemed to be enjoying themselves. Craig Monroe was exceptionally friendly and seemed to really be reaching out to kids. In addition to Monroe, my kids got autogrpahs from Nate Robertson, Vance Wilson, and Mark Woodyard.
I couldn't help but feel bad for Woodyard when the guy in front of us said, "What position do you play?" Woodyard answered pitcher. The guy who hadn't done enough damage then followed up with, "Are you a minor leaguer." Woodyard paused and said somewhat dejectedly, "yeah."
Touring Comerica
We passed on taking part in any of the "skills" activities because at 2 and 5 the kids probably were a little young. We did take opportunity to do the Comerica Park tour. Depsite some confusion about shuttles and parking the tour was my favorite part of the day. The tour included stops in both clubhouses, the Tiger dugout, and the pressbox.
Upon entering the visitors clubhouse, my daughter who is in the final stages of potty training declares "I have to go potty!" We hadn't seen any restrooms in the bowels of the stadium, so we discreetly ask the tour guide if we can use the visiting team facilities. He agreed, and after everyone moved on to the next stop my daughter peed in the first stall in the visitors clubhouse. We took a picture (not posting that one though).
In the end, my kids' favorite part of the day was riding the people mover. But for me, the biggest kid, it was looking out at Comerica Park on a sunny day and thinking "Only a month 'til spring training."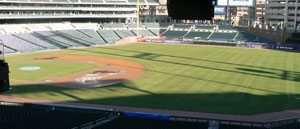 baseball, detroit tigers, tigerfest