Tiger of the decade?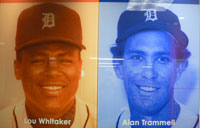 While on the Comerica Park tour during Fanfest, I noticed a large display just outside the Tigers clubhouse. It was actually on a wall adjacent to the clubhouse, facing the kitchen/food area. It was floor to ceiling high and featured Tiger history by decade. Each decade featured one photo prominently which presumably represented the Tiger of the Decade. Al Kaline was the 60's, Willie Horton the 70's, Trammell the 80's and Whitaker the 90's. It raised several questions for me.
Was it awkward for Trammell to have that big honkin' picture/tribute on the wall while he was a manger?
Whitaker was by far my favorite Tiger, but was he really the Tiger of the decade? Was that more a tribute to Whitaker or an indictment on the decade in general? Who else could it have been? Cecil Fielder? Travis Fryman? Mike Henneman? Tony Clark?
And lastly, who has been the Tiger of the decade for the 00's?

I know the decade is only half over, but I'm having a hard time finding anyone who has distinguished themselves. Brandon Inge and Craig Monroe are the longest tenured, but neither really defines the team in a local sense. Nor have they performed at a level that has had them anywhere near an All Star game or any other honor (Inge could get a Gold Glove this year).
Jeremy Bonderman has received the most attention , but has yet to become more than an average pitcher. Mike Maroth has been a stand-up guy for each of his seasons in Detroit, and he has the crafty veteran vibe going for him. And yet he doesn't really feel like a Tiger of the decade.
Here we are half way through the decade, and the Tigers seem to be more defined by players contracts than the players themselves. So I pose two questions:
If you had to pick a player of the decade based on performance to date who would it be?
When all is said and done, who do you think will be the Tiger of the decade?
baseball, detroit tigers