Maybin report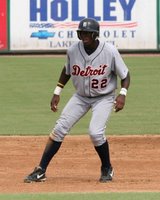 Cameron Maybin's hometown paper, the Asheville Citizen Times, has a
nice article about his experience in the Detroit Tigers instructional league. There isn't any major news in the article, but it echoes the favorable reviews that he received in an MLB.com article last week. The article speculates that Maybin may start at West Michigan next spring. Oh yeah, and the pic of Maybin in Tiger uniform is courtesy of Roger Dewitt. He has a whole collection of IL pics at Motown Sports.
In other minors-related news, the Tiger contingent has turned in mixed performances in the Arizona Fall League. Kody Kirkland continues to hit well in limited playing time. David Espinsosa started off hot, but as cooled down and seen his playing time diminsh as well. Don Kelly has struggled not only with the bat, but he has committed 4 errors as well.
As for the pitchers, Humberto Sanchez has had two very good outings, and two outings where he struggled – particularly with his command. Adam Peterson and Mark Woodyard have had a hard time getting hitters out.
Player      AB    H    HR    BB    SO    SB    AVG     OBP     SLG 
Kirkland    20    8     1     3     4     1    400     500     700 
Espinosa    46   12     1     7     6     1    261     352     370 
Kelly       55   13     0     6     5     2    236     306     273  

Player        G     IP     ERA     H     HR     BB     SO 
Sanchez       4   17.1    3.63    20      1     10     19 
Peterson      7    9.1    6.75    13      3      3      9 
Woodyard      4    5.0   12.60    14      1      3      6
The silver lining is that Espinosa's slide may make him less attractive to other teams in the Rule 5 draft, meaning the Tigers may be able to retain him without giving up the roster spot.