DIBS Awards
At the end of the season, eleven web sites that write about the Detroi Tigers voted on a Tiger player of the year, pitcher of the year, and breakout player. Today, DIBS (Detroit Independent Baseball Scribes) announced the winners. Placido Polanco took home player of the year honors, Jeremy Bonderman won pitcher of the year, and Chris Shelton was the breakout player.
As for my ballot, I agreed completely. For player of the year, I gave consideration to Bonderman, Polanco, Shelton, and Craig Monroe. Monroe was the only one to spend the whole season with the team, but I chose to go with Polanco. Polanco's OPS of 847 ranked among the team leaders, and he did it while playing flawless defense at an important position. Throw in the fact that by all appearances he was the consumate teammate, the decision was easy.
Among pitching candidates, had Kyle Farnsworth not been traded he probably would have had my vote. Bonderman's second half slide made him an average pitcher for the year. However, given his age and experience his season was still impressive.
As for the breakout player, there was little question that Chris Shelton should win. In fact, he received the first place vote on all 11 ballots. While Curtis Granderson was very impressive whlie he was in Detroit, Shelton did it longer. In any case, both players were bright spots in what turned out to be a disappointing season.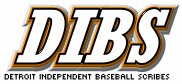 So that's my ballot, but what about these 11 websites and DIBS? The idea was spawned by myself, Ryan Sosin, and Brian Borawski last season. There are a ton of great internet sites covering sports – specifically the Tigers – that are flying under the radar. The intention of DIBS is to help improve and promote those sites. As a member of the Tiger blogging community, one of the great things is that the various sites aren't competitive. We don't snipe at each other, and we do our best to promote each other. If one of our sites gains exposure, we all benefit. And that's really what DIBS is all about. We want to generate great content, and we want to get that content in front of as big an audience as possible.