Game 2015.80: Blue Jays at Tigers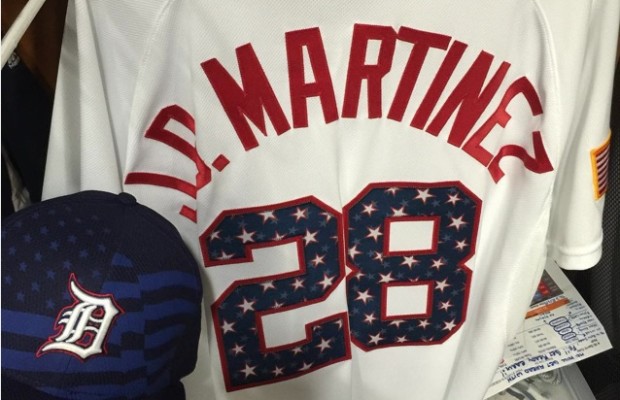 The diagnosis is in: Miguel Cabrera has a grade 3 calf strain, and is expected to miss 6 weeks. The good news is that Cabrera has no achilles damage and won't require surgery; the bad newses are most of the summer without Cabrera and no real Plan B to replace him.
The Tigers have called up Jefry Marte from Toledo, who is at .271 for the season, with 13 homers and 55 RBI, and has had a hot June (.317). He has played 10 games at first over the span of his minor league career. For today, the Tigers are going with Alex Avila at first. Brad Ausmus said that playing Victor Martinez at first is "not an option."
The Cabrera injury was the beginning of what was a very strange baseball game. He probably actually injured it on a strange play where he tried to go from 1st to 3rd on a goundout, and was tagged out on a hard and slightly awkward slide. But the Blue Jays put on a clown show (including errors on back-to-back plays by former Tiger Carrera), and it looked like a blowout win. All the excitement in the game came from the mound, with Anibal Sanchez cruising into the 8th with a no-hitter. At 110 pitches Anibal was probably just out of gas, but Ausmus tried to let him finish the inning, and the Blue Jays pounced. By the time the inning was over, the game had turned into a nail-biter.
If the Tigers had come out on the wrong end of last night's game, that and the Cabrera injury could have been too big of a blow to rebound from. As it is, the team will have to show some character and come together to fill in for the big man. Miguel has had some mini-slumps over the season, and when he does the team has tended to not do well. Let's see what they can come up with without him in the lineup at all.
Today's Who's On First? Lineup:
Ian Kinsler, 2B
Yoenis Cespedes, LF
Victor Martinez, DH
JD Martinez, RF
Alex Avila, 1B
Nick Castellanos, 3B
James McCann, C
Josh Wilson, SS
Anthony Gose, CF
"And now batting fifth, 1st baseman Alex Avila!" [Crowd roars]. I had figured we'd see Romine at first, but Avila makes sense also: he had played first in Spring Training in case Cabrera wasn't going to be ready to start the season. (But batting 5th?). To me the curious move is resting Iglesias. A win today, on Cabrera's first day on the DL, would make a statement. I say rest Iglesias tomorrow. Unfortunately, Brad isn't taking my calls at the moment.
The Tigers will be wearing special 4th of July uniforms; the game post picture is from a JD Martinez tweet.  Happy Independence Day everyone!