Playoffs?! Playoffs?!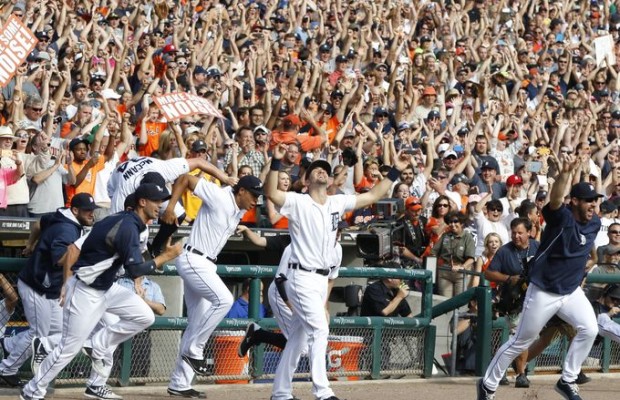 Yes, playoffs!
I figured I would throw out a new post for pre-ALDS talk. As you may have heard by now, the Tigers have announced their starting rotation for the playoffs, which goes Scherzer/Verlander/Price/Porcello, ending the speculation/hope of some that they would buck tradition and go with a three-man rotation.
Chris Tillman (13-6, 3.34) is going for Baltimore in the opener, but the Orioles have yet to announce their rotation beyond that.
The actual schedule of the first three games of the series is out:
Game 1 – Thu Oct 2 – Camden Yards – 5:37 pm if Royals win wild card, 6:07 pm if A's win wild card
Game 2 – Fri Oct 3   – Camden Yards – 12:07 pm if Giants win wild card, 3:07 pm if Pirates win wild card
Game 3 – Sun Oct 5 – Comerica Park – 3:45 pm
Those 3:07 (if Pirates win) and 3:45 games would seem to favor the pitchers, with the odd late-afternoon shadow factor. Sunday would also seem to be courting a little panic in Detroit with the Lions' home game ending shortly after the Tigers begin.
Tonight the Royals and A's play their game 163 (otherwise known as the Wild Card game). I'd love to see KC win. Besides representing the much-maligned Central, the A's just plain got buried by the Angels at the end of the season, and it would be nice to see someone take out the Angels and save Detroit from another horrid LA experience. The Royals seem to have a better chance at that than Oakland. Of course, as I am typing this the Royals just ran into an out from 3rd, not a good sign.
In other Tiger news, Victor Martinez was nominated for the Hank Aaron Award, and Miguel Cabrera was named the AL Player of the Month for September.