Game 2014.54: Blue Jays 5, Tigers 3
17 games in 17 days and a 7-10 to show for it. It started off so well, with that sweep in Boston. The Tigers, following a long-awaited day off, return home for three against the Blue Jays starting Tuesday (7 PM, 7 PM, 1 PM), and won't be doing any serious traveling again until June 24.
Detroit (31-22, 1st place Central, 3rd place AL) sends out Anibal Sanchez, probably their best bet for cooling off hot-hitting Toronto (34-24, 1st place East, 2nd place AL). Don't look now, but the Blue Jays starter will be Drew Hutchison, and the fact that he's a rookie and you've never heard of him should inspire fear. He's been having some success, if that's any comfort.
Let's get to the hot-button issue for most Tigers fans these days right away: The Game Poster League standings. Sportsman that I am, I didn't bring this up when I was way ahead.
Coleman 12-6
Smoking Loon 12-7
Kevin in Dallas 7-9
[Optional comedy interlude below]
Let's have some stats, and tons of them, because it's an off day before a night game. We begin with rankings, sans numbers, in RE24 and WPA, the two best measures of hitting/pitching effectiveness and situational win contribution, respectively.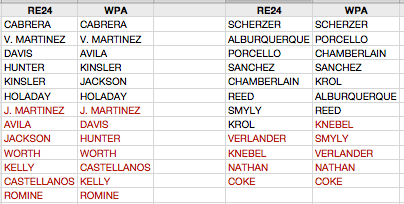 I'll have a word on defense before I start throwing guys under the bus and off the team: Ian Kinsler (.996 FPCT, 1 error in 226 chances) and Alex Avila (a ridiculously good 43% CS, 1 PB, and 6 WP under a heavy 43-game workload) come to mind as the most consistently outstanding defensive contributors. Factor in the the solid shortstops (Tigers lead the AL in DP/G) and Austin Jackson in CF, and the Tigers are strong in the middle. To a milder degree, I see negatives at 3B and RF in Nick Castellanos and Torii Hunter. Incidentally, to the extent you can gather anything from what's officially scored as an error, Verlander (5) and Sanchez (3) have been burned for 8 of the Tigers' 20 ROE. 11 of the 17 unearned runs between 'em, too. (But note that Verlander the fielder has done burned his own self twice.)
Back to the spreadsheet snip. You wouldn't think that lesser hitters such as Avila and Jackson have done more winning with the bats than far better ones Davis and Hunter, but WPA does not lie. You might also not believe that Avila has been a (slightly) more valuable hitter than Jackson, but this has been true so far. A couple things that stand out on the pitching side are how things have brightened in the bullpen (4/7 pret-ty decent!) and how the top dog in the bullpen – Al Alburquerque – falls from grace in WPA by virtue of… well, I'm sure you can remember a few games that ended suddenly. And Scherzer still rocks in spite of recent difficulties.
Now who are those under-contributors? Six jump out at you, but four of them aren't guys you're going to kick off the team.
Justin Verlander: An outing like the last one and you forget how lousy he'd been overall. Which is as it should be, I suppose. You might say that JV is always better than his stats, even when the stats are good.
Joe Nathan: This is not what the Tigers bargained for, but it's too early for worst-case scenarios. He's scuffling, not tanking. Heavy-duty scuffling, though. What's the problem, aside from the walks and HRs? Oh, maybe it is the walks and HRs.
Nick Castellanos: The Third Baseman Of The Future isn't going anywhere (name even one Tigers 3B prospect). You don't rush a guy to the majors to hem and haw about it. They're committed. The Third Baseman Of The Future isn't going anywhere… except back to the outfield, eventually. You heard it here first.
Don Kelly: The hitting is worse than I thought, but his defensive and overall utility value guarantee him a spot through the rest of 2014.
Now it gets interesting. Sort of.
Andrew Romine: Although he's clearly a very good shortstop (and I've seen him get shortchanged by Miggy failing to scoop a couple times recently), is he a GREAT shortstop, the kind you can live with mostly abominable hitting from? No. The thing is, Romine makes a better utility infielder than Danny Worth. Worth is actually the guy on the bubble here. (Enter Eugenio Suarez, sooner than later.)
Phil Coke: Can't he be an inning-eating middle reliever for the ones that get away early? Is he wasting a spot? Maybe. If there's one guy on the bubble, here he is. But it's been that way for a while now. <yawn> (Enter Luke Putkonen, Justin Miller, Joel Hanrahan, or someone, maybe even you.)
Statistical potpourri:
Pitching: Anibal Sanchez has not allowed a HR in 43 IP, and Joba Chamberlain is HR-free thru 23 IP… Ian Krol, 2.33 ERA. Ian Krol, 7 of 18 inherited runners allowed to score… Evan Reed, 5 DP induced in 18 opps. Nathan, 1 in 14… Chamberlain and Alburquerque feature gaudy 30% K rates. Krol and Coke, 16% and 11%… Nathan does have one of the lower BA-against at .234, and the OPS-against isn't bad at .739. Hmmm… Detroit's staff is 11th in the AL in strikeouts. That's a switch.
Hitting: Only one guy isn't sporting something above or close to the league average line drive %, and that would be Romine at 11%… When 6 regulars are striking out below the league average rate, that's good for 2nd lowest in the AL. Avila remains extraordinarily bad at 35%, but he's being chased by Andrew and Nick. We all know about VMart and strikeouts, but Kinsler is sitting at an excellent 8% himself… So the Tigers aren't striking out and are belting line drives. Good hitting, in spite of a #13 rank in BB, but where are the runs? 16% of Detroit baserunners score, which is above league average (14%). There are some RISP problems, highlighted by Jackson (.125), Avila (.219, though he does have a .793 OPS here), Romine (.120, and 3 of 72 runners on have been scored by him overall), and Kelly (.211). Lots of RISP K's here, collectively… Jackson, Rajai Davis, Castellanos, Avila, and Romine are to be commended for remarkably low GIDP rates, although I suppose the elevated K rate for the latter three contributes to that. Jackson and Davis have grounded into 2 double plays in 73 opportunities! Meanwhile, the usual 1-4 hitters all have elevated GIDP rates, though it's nothing ridiculous (the Tigers are slightly better than league average as a team here)… Victor Martinez is fantastic, of course, the numbers speak for themselves, but just imagine if he wasn't so darned SLOW. The singles that would be doubles, the runs he'd score (he scores 16% of the time as a baserunner, shame for a .390 OBP guy), the trailing runners who could advance farther, the infield singles that anyone else would get, the occasional double-play averted. It's a kind of tax. I'm glad he's hitting more HR. Despite a good deal of team speed, Detroit is below average at taking the extra base… I have opined that Davis is not a leadoff hitter, and I am wrong. Look at the OBPs of Davis and Kinsler vs. Hunter. Check out the dynamic baserunning stats of Davis and Kinsler, and you know they should be successive in the order as they usually are. But it should be more often. I would go so far as to say that Awesome-Us makes a mistake to bat Davis #9, ever. I used to think it was clever.
Just noticed this very interesting feature (is it new?): Could help you in your All-Star voting. Scroll down a bit and check it out (note the "Highlight a team" feature) to have a look at how the Tigers stack up against the Blue Jays (and the rest of the AL) position by position. You might be surprised.