Look away. You may not read this or comment here until Game 121 is completed.
OK, it's time for game two of the doubleheader. I've just returned from the future, but I promised not to give anything away about Verlander owning the Royals, or whether Fielder tied or broke the all-time record for home runs in a doubleheader.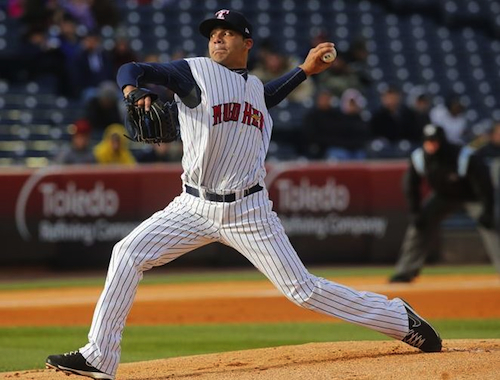 Jose Alvarez turns out to be the TBA for the second game. I was highly annoyed when TBA was all I found yesterday at mlb.com, though I had a hunch it would be Alvarez. I was sorely vexed as to why it was necessary to substitute here, particularly as I had relished the prospect of getting all five regular starters in a single series. But seeing Jose pitch again is nothing to complain about, I guess. He's been pitching up a storm in Toledo.
Some interesting matters brought up in the comments sections have caught my eye recently: Avila v. Pena. Tigers performance in extra-inning games. The left field situation.
There was the matter of team W-L for Avila and Pena games. In Avila starts, the Tigers are 49-24. In Pena starts, the Tigers are 20-22. More info:
Complete extra-innings games caught: Avila 3. Pena 12.
Games catching Scherzer and Sanchez: Avila 31. Pena 15.
CS% with Fister on the mound: Avila 20% of 5. Pena 50% of 6.
Only Porcello pitches appreciably worse with Pena catching.
Batting in losses: Avila, 24 G, 171/267/197/465, 0 HR, 2 RBI. Pena, 27 G (22 as starter), 362/384/500/884, 3 HR, 11 RBI.
One big reason the Tigers are 5-11 in extras is that a man on first base for the opponent constitutes a threat, every time. Not so when the Tigers are up. Does a Tiger reaching first in extras fill you with confidence that a run will score? I didn't think so. The Tigers are a laughingstock on the bases and intimidate no one. Another reason is that Tigers home run power resides largely in the person of Miguel Cabrera. Yes, a lot of other Tigers can hit home runs, but no one but Cabrera is a home run waiting to happen. A number of teams have several such guys, and it comes in handy in extras. Yet another reason is that the bullpen chokes, even in the best of times. Tigers pen is 11-19. That's 38.7% of team losses. They were 8-16 at one point, though. It must be getting better. Also, when you reach 5-11 in extras, doesn't the law of averages start to side with you? Let's hope so. I wonder if averages have lawyers.
Looking back over the Leyland Years, there have been more losing records in one-runs and extras than not, but enough exceptions to make you question blaming that on Leyland or the way the team is constructed. That's baseball, as someone might say. Still, the blunders and failures to make things happen on the bases are glaringly apparent this season. (Maybe that's just because this season is the one happening NOW, though. Whereas past seasons seem to have happened, you know, like, in the past.) Things like that can send a game to extra innings and rob you of any confidence once you get there.
Wasn't I just saying that the Detroit Tigers are the best team in baseball? They must be, to be 71-49 in the face of all that. I mean 72-49, of course.
Is there a problem in LF?
Dirks 83 G, 252/310/355/665 6 HR, 24 RBI
Tuiasosopo 43 G, 279/394/486/880 6 HR, 22 RBI
Kelly 24 G, 326/356/535/890 2 HR, 7 RBI
Add that all up, you get "a guy" with a line close to this: 119 G, 275/350/400/750 14 HR, 53 RBI. Pretty respectable numbers. Add in the defense, and…
I don't think there's a problem in LF.
Go Jose. Go Miggy. Go Tigers. We get another chance to evaluate Alvarez and speculate on his future with the Tigers. A Smylyesque bullpen apprenticeship in 2014 before joining the rotation in 2015, perhaps?