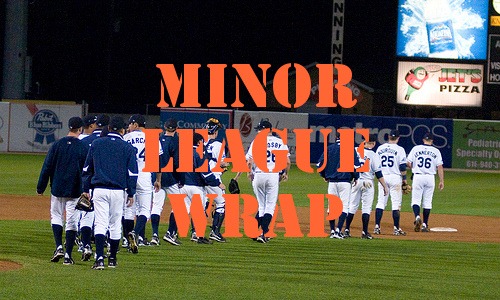 Toledo 5 Rochester 3
Ryan Ketchner pitched 6 shut out innings. Brendan Wise was knocked around for 3 runs on 3 hits and a walk while only recording 1 out. Daniel Schlereth pitched well fanning 2 in 1.2 innings. Ryan Strieby went 4 for 5. Jeff Larish, Danny Worth, and Jeff Kunkel all had 2 hits.
Erie 6 Bowie 3
Andy Dirks was a triple short of the cycle on a 4 for 5 night. Audy Ciriaco went 3 for 5 with a double. Andy Bouchie doubled and homered. Thad Weber struck out 5 and despite allowing 3 homers, only allowed 3 runs in 7 innings. Zach Simons finished the game with 2 scoreless innings.
Bradenton 0 Lakeland 3
Alden Carrithers had 2 hits, as did Daniel Fields and Julio Rodriguez. Kody Kaiser tripled and walked. Adam Wilk went 6 innings and allowed only 2 hits and no walks while K'ing 5. Cory Hamilton and Lester Oliveros finished off the shut out.
Peoria 4 West Michigan 9
Michael Rockett was a double short of the cycle. Chris Sedon homered and added 2 singles. Avisail Garcia singled twice and doubled. Giovany Soto only lasted 4.2 innings as he scattered 7 hits and 3 walks and allowed 2 runs. Victor Larez did the heavy lifting in relief going 3.1 innings and striking out 3.
Roster Moves
There were a bevy of roster moves the last few days as things got shuffled around. Toledo welcomed in Billy Buckner and they activated Jeff Larish from the disabled list. That marked the end of Ben Guez's stay in Toledo and he returned to Lakeland. Lakeland made room for Guez by sending Chao Ting Tang to the GCL Tigers.
Jeff Kunkel went from Erie to Toledo because Max St. Pierre hit the DL. Angel Flores was the other part of the cascade moving from Lakeland to Erie. And Luis Sanz was called up from EST to Lakeland.