Much has been made about Johnny Damon's offensive numbers being inflated by the new Yankee Stadium. Damon matched his career high of 24 homers last year at the age of 36. He also posted the highest slugging percentage of his career and with 17 of his homers coming at home he clearly benefitted from the short porch. How might the move to a much more spacious Comerica Park effect Damon's 2010 production?
Using the ever-valuable Hit Tracker we can see exactly where each of Damon's homers landed in 2009. But with a little image manipulation we can overlay Damon's homer onto Comerica Park's dimensions and get a feel for the impact of his new home park would have on his production.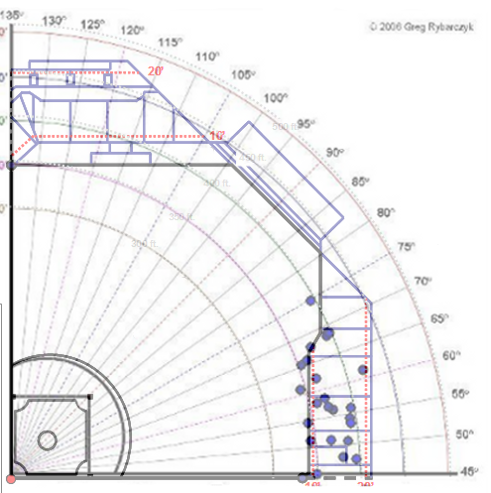 Five of Damon's homers would have come up short in Comerica Park, and two to three more would have been in jeopardy as well.
Clearly Damon benefitted from the shallow dimensions at Yankee Stadium, but did he "luck into" those homers or did he he alter his swing to make make the most of those dimensions? Scott Boras claimed that Damon tried to hook homers at Yankee Stadium while using his whole-field approach other places.
Grabbing the balls-in-play plotted data from the MLB Gameday application it is easy enough to see if Boras was correct in his assessment, or just making claims with little regard for factual accuracy.
Similar to what I did with the assessment I did of Curtis Granderson, I calculated the vector of each ball in play and then classified each as opposite field, up-the-middle, or pulled. First the table for Yankee Stadium (the new version of course in 2009 and the old version in 2007-8)
Home
Direction
2007
2008
2009
Oppo
27.23%
25.11%
23.86%
Middle
38.03%
34.04%
28.41%
Pull
34.27%
39.57%
45.45%
And now the road version.
Away
Direction
2007
2008
2009
Oppo
30.38%
24.28%
20.63%
Middle
35.38%
32.92%
28.97%
Pull
32.69%
40.74%
48.02%
Damon has begun to pull the ball more in each of the last 3 years, but that isn't limited to Yankee Stadium. He exhibited the same tendencies on the road, and in 2009 it was even slightly more pronounced.
It doesn't appear that Damon concocted a special swing he only used in Yankee Stadium last year. He appeared to pull the ball no matter where he was. Damon will still likely hit his share of homers, but a total in the mid teens is a more likely outcome. As is a line that is closer to his 2009 road numbers (284/349/446) than his homer inflated home line (279/382/533).