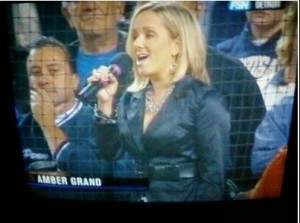 On Sunday the Tigers went into the game mired in a 5 game losing streak. I jokingly (well, half jokingly anyways) mentioned that the Tigers would win because Amber Grand was singing the National Anthem. It seemed that the Tigers have had decent success with Grand on the microphone this season (yeah, I try and take it all in when I'm at the game). That was later confirmed when after Sunday's game she had pushed her record to 6-1 in 2009.
Here at DTW we are big fans of Grand. She's got a tremendous voice and a wining record this year and we'd like to see more of Grand belting out the National Anthem. This is meant as no disrespect to the other singers in the rotation who all do an excellent job (especially my friend Cliff Erickson who you can check out around the metro Detroit area). But we're in a pennant race here people.
DTW: How long have you been doing the National Anthem at Tigers games? Do you know your overall record and is it in line with your 6-1 mark this year? Why have you been so effective in bringing the Tigers wins this year?
AG: This is my 9th season with the Tigers now.  I started right out of high school because Dan York who was one of the in house announcers also announced for my hometown's high school sporting events which I also sang the anthem for.  He gave the Tigers one of my basketball game tapes, and the rest is history.
To be honest, I don't know my record, my dad keeps a good eye on it, so I do know that it's normally pretty good and not too far off from this seasons, give or take a few. I don't know why I've been so effective in bringing in wins this year, Jim Leyland has come up to me a few times though and told me he really enjoys when I sing…it's probably just luck, but wouldn't that be great if it wasn't?  LoL!
DTW: Do you sing the Anthem for any other teams? Do you have any other singing endeavors or are Tigers games your main gigs?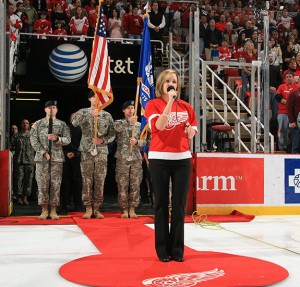 AG: I have done the Anthem for The Wings and Lions as well, but my home base is definitely with the Tigers.  Other than sporting gigs, I sing for my hometown city in support of Veterans Day, Memorial Day, and the Christmas tree lighting ceremony.  I also sing at weddings and other events when asked.
DTW: What do you do when you're not singing the National Anthem?
AG: I am in my last year at University of Michigan Dearborn studying Elementary Education.  I also work as a server/bartender at
Chelis Chili Bar
.  I've been there since we've been open (6 yrs now) and absolutely love Chris and everyone I work with.  Chris has helped in getting me a few of my singing gigs too.
DTW: How about that Michigan-Notre Dame game?
AG: Oh Boy!  You asked!  I'm Michigan all the way, but I'm from and Irish Catholic Family whose love runs deep for those Irish.  We survived the game through our love for one another…it wasn't easy, I was there and had 10th row seats.  It was a great game… and their broken hearts will mend right around January I'm sure!
DTW: Who's your Tiger?
AG: Curtis Granderson all the way…I do love them all though!
DTW: Are the Tigers making the playoffs this year and if they do how far are they going to go?
AG: The Tigers are definitely making the playoffs this year, and they're going ALL the way.  Are you crazy asking me that question?   This is our year baby!
DTW: Sparky Anderson or Jim Leyland?
AG: I have the utmost respect for Sparky…but I think Jim Leyland is amazing.  I just love him!
DTW: Karen Newman became a local celebrity singing the National Anthem for Red Wings games. Do you have dreams of hearing "…the Tigers own Amber Grand" before every home game?
AG: That is my main goal.  I've been at this for 9 years now, I love Karen…I've actually sang with her before at a Dearborn Fundraiser with the Red Wings and firefighters.  She did the Anthem, I did the Canadian.  She is so nice and it was so fun.  I would love to follow in her footsteps for the Tigers.  All they have to do is ask!