PREGAME: One thing about the divison race has become increasingly evident. The Twins won't lose. So the Tigers just need to respond by not losing too. Simple right?
Nate Robertson gets the start. I'm sure after watching Eddie Bonine take a loss last night he's just chomping at the bit.
Freddy Garcia is still alive and pitching tonight for the White Sox. Not only is he still alive, he has a streak of 6 straight quality starts. Egads!
Detroit vs. Chi White Sox – September 26, 2009 | MLB.com: Gameday
POSTGAME:
Audio clip: Adobe Flash Player (version 9 or above) is required to play this audio clip. Download the latest version here. You also need to have JavaScript enabled in your browser.
This pretty much tells the story: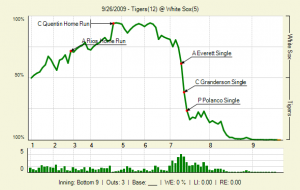 This one got off to a scary start. Nate Robertson didn't have the good stuff tonight. The way some of his breaking balls stayed way out side had me wondering if the groin, g-g-groin, g-g-groin (Cheers reference) injury was flaring up again. He surrendered all 5 runs, and it could have been worse without some nifty defense from Carlos Guillen in left field and a heck of a double play turn by Adam Everett.
The offense will get a lot of attention (and rightfully so) for awaking from a 13 inning scoreless slumber. It turned into a blow out thanks to some hard hit balls, and some weakly hit balls hit to the right spot, and some routinely hit balls that went between infielders.
But could it be that on this night the star is a mop-up man who threw 2.2 innings of scoreless ball to keep the game from getting out of hand and allowing the offense the opportunity to get back into it? Alfredo Figaro's 1 hit performance tonight was huge, huge I say.
One thing that is, um, mysterious, is why use your primary set-up guy for 2 innings in a blow out? Especially with Seay day-to-day? I don't get the Brandon Lyon usage.
Everybody hit except for Brandon Inge who has 6 K's in his last 8 plate appearances. Use the game link to see the box score. Lot's of hits (20) all around.
Zach Miner with another strong performance.