Doing my part as a cog in the Rick Porcello hype machine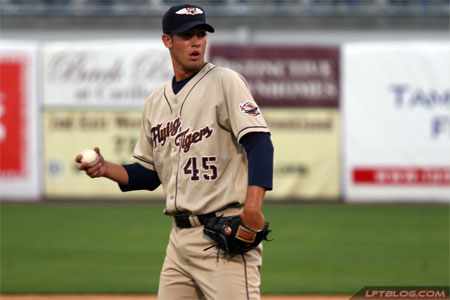 It's only one start, but the reviews couldn't get much better of Rick Porcello's debut. I hit the details in the minor league wrap last night, but those in attendance have since had time to post their reports.
Porcello threw 71 pitches over the 5 innings, which was right in line with a pitch count/inning limit of 75 and 5.
A newer blog called Saber-Scouting took in the effort and filed a full scouting report, complete with scores on the 20-80 scale. The change-up Porcello featured was his out pitch on this night. The summary is incredibly encouraging (emphasis mine)
You can see why teams loved him in the draft—he has all the elements you look for in a young pitcher. Tonight he showed a great projectable body, sound mechanics, great command for his age, great feel for a plus fastball, ability to spin a plus breaking ball, a knockout changeup, potential plus command, and the intelligence to know when and how to use these tools. Not sure what else you could want, really. I am confident he could pitch in the big leagues right now as a back-end starter, but allowing him to improve in the minors for a bit is the more savvy move. There's been tons of hype tossed on this guy by about any writer that can spell his name, but it doesn't look like it's gone to his head and he's everything that was advertised.
It also sounds like he's got some pretty impressive awareness and an ability to make adjustments. When he got into trouble in the 5th inning, a quick conversation with pitching coach Joe Coleman got him back on track.
"I wasn't tired in the fifth inning," said Porcello, who was also charged with an error on a pick-off throw after hitting Battle. "My arm slot just dropped a little bit. I started to lose control a little. I just have to go back out there and get after it.
Finally, Deran and LFT Blog posted their thoughts on the game as well as some great pictures from the night (including the one seen above).