On Sunday, June 24th Andrew Miller took center stage on ESPN Sunday Night Baseball and promptly pitched 6 shut out innings. Miller only allowed 4 hits and 2 walks and was never really threatened. Was this a dominant performance by a young stud pitcher, or just another day at the office for the slumping Braves? I don't know if we can really say one way or the other, but with enhanced gameday data we can at least get some additional information.

If you are a new reader, MLB's new gameday has a series of cameras set up in 8 major league parks that captures pitch speed, location, trajectory, and release point. I've used this data to look at Joel Zumaya and Jeremy Bonderman in the past. Others have looked at the consistency in data between parks, how pitches sink, and a variety of other studies. But back to the task at hand.
The first thing to look at the mix of pitches that Andrew Miller was throwing. If you watched the game, it was clear that Miller was relying on his fastball. In fact, only 7 of the 84 pitches that gameday tracked were less than 83mph. The rest of the time Andrew Miller was throwing between 87 and 94mph for the most part.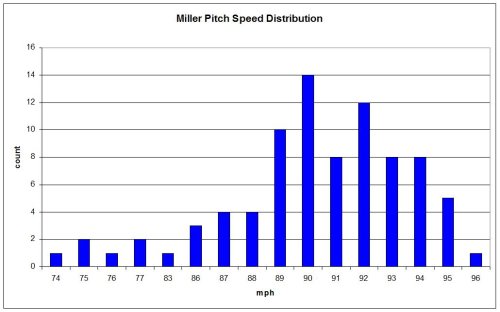 Joe Morgan repeatedly commented that Andrew Miller was throwing 2 different fastballs, and if you look at the plot of pitch speeds it does look possible. So there were a couple different speeds, but did they have different movement? The chart below shows the horizontal and vertical movement. The movement is defined as the distance from where the pitch crossed the plate, and where a hypothetical pitch with no spin would have crossed the plate. A pitch with no spin would be expected to go down due to gravity, but the backspin on the fastball helps to counteract that. So the positive value in vertical movement doesn't mean the ball rises, just that it drops less than a pitch with no backspin.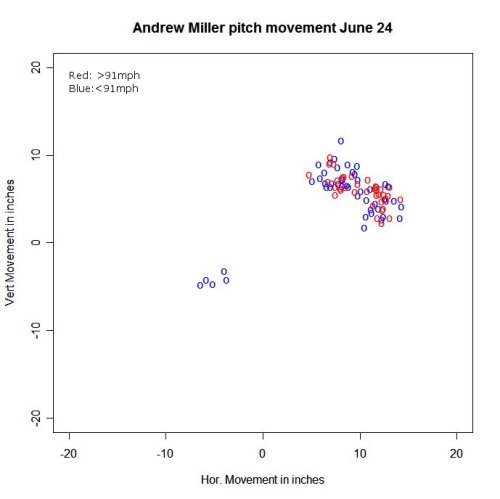 The couple of breaking pitches that Miller threw really stand out. But focusing on the fastballs, by looking at the movement it does appear that there was a little variation. There was a cluster of pitches that have about 3 to 6 inches of vertical movement and a little more tailing and then another cluster that had 6-10 inches of vertical movement and were straighter. Presumably the former would be the 2 seamer and the latter would be the 4 seamer. What is a little surprising is that he mixed the speeds between the two pitches. He threw the straigher pitch slower and the sinking pitch faster. It makes for less delineation between the 2 pitches.
As a point of comparison, here is Kenny Rogers chart from just 2 nights before: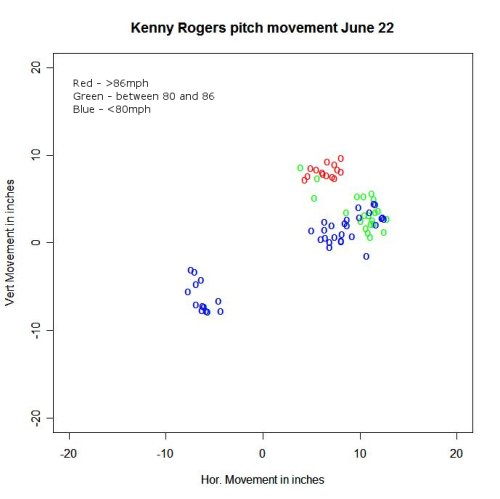 Now of course Rogers has a different repertoire so this isn't a great comparison, but the pitch types become pretty distinct. I don't know if in Miller's case the lack of distinction was by design, or if it comes from still refining his pitches but it did prove effective.
So we know that Miller was relying on his fastball, that may have in fact been 2 different fastballs. Still though, it would be tough to keep a team off the board without throwing a breaking or offspeed pitch all night. So maybe Miller was a master of control. Here's a chart of where he threw the pitches (from the catcher's perspective).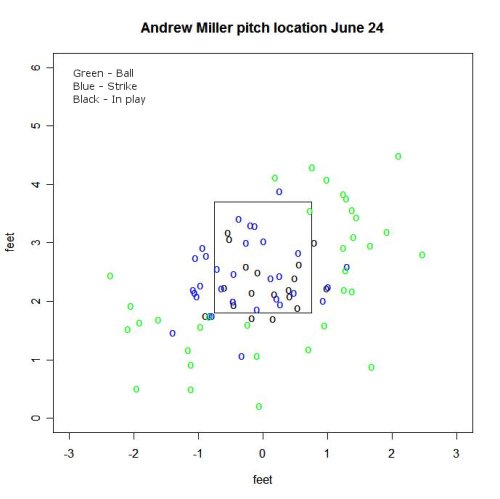 What I notice from the chart is that he didn't get a lot of swings and balls that weren't right near the strike zone. Without breaking pitches, hitters were less inclined to chase. At the same time he did do a nice job getting strikes on the inner half to right handers.
The next chart shows Kenny Rogers outing from Friday. You can see that he hardly threw the fastball over the middle of the plate. He picked up a ton of strikes that were well out of the strike zone and was consistently working in the bottom half.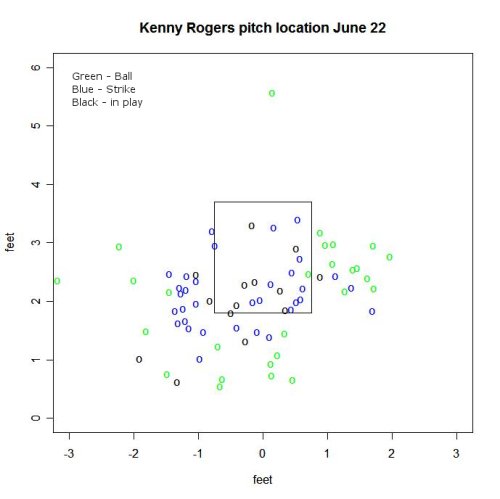 And one final item is to look at what happened to each of those pitches that Miller threw:
36 Balls
17 Called Strikes
15 Fouls
20 in play
0 Swings & Misses
Despite the raw stuff, Miller didn't induce a single swing and miss. Now granted there wasn't much solid contact either.
In the end I'm less inclined to call that effort a dominating performance. It was certainly a strong outing, and it's probably a testament to his fastball(s) that he was able to do what he did with only one pitch. The Atlanta Braves came into that game slumping, and facing Miller certainly did nothing to help them out of it. He still had good movement on the fastball, plus with his frame and delivery he'll still give the opposition fits. Plus this was just one start, and he has thrown the slider/curve more in the past. So I'm not predicting doom and gloom, but he'll have to find a way to command his secondary pithces.