In the first of what will be a depressingly long series titled "What went wrong 2005" we'll take a look at the injuries the Tigers have sustained.
While the Tigers have a higher payroll then most of their AL Central counterparts, their record is better only than the Royals. However, this season is a prime example of A)Why expectations shouldn't be set by looking at dollars spent, and B)The value of young cheap players.
Below is a table showing the days and dollars that the Tigers have lost to the disabled list this year.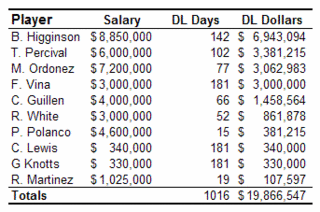 Now the Tigers payroll has been reported to be between $69-$75 million this year (depending on when you look and such). In any more than a quarter of the Tigers payroll has been to players who haven't been contributing.
Now in all fairness, there was very little expected out of Bobby Higginson, Colby Lewis, Gary Knotts, and Fernando Vina this season. As a matter of fact, if not for the 60 day DL, the Tigers probably wouldn't have been paying for Knotts or Lewis. In the case of Higginson and Vina, the players probably would have both been released but in each case it was cheaper to retain the players and let the insurance kick in.
On the other hand, the two free agent signings who were expected to help improve the team, Magglio Ordonez and Troy Percival, have combined to miss an entire season. (Maggs salary came from ESPN.com, I don't think that's the correct number, but it's what I had). Also, the Tigers received diminished production from the shortstop position with Carlos Guillen ailing.
Now am I making excuses? Sure I am. The Tigers injuries did have a negative impact on the team. And these are just the guys on the DL. Dmitri Young's various ailments have sidelined him at various times. Then there is Carlos Pena, who was making $2.575 million but spent 2 1/2 months in Toledo.
But the lesson here is that aging free agents can be a risky proposition. Ordonez isn't ancient, but the days of expecting him to play everyday are probably gone. Carlos Guillen and Rondell White have had a history of being injury prone. Troy Percival and Bobby Higginson were both pretty close to the end of their careers coming into this year.
Injuries happen to every team, and more expensive injuries happen as well. The Tigers need more talent, and they've found some in the minors. But they are still more than one or two players away from being a playoff team, so they will probably need to add additional talent through free agency this year. Once again unfortunately the Tigers will probably be in a position where they have to overpay for free agents that other teams are hesitant to sign. And once again they will probably be susceptible to injury.