So where will the wins come from
My thoughts all along this offseason were that the AL Central was getting better. The Twins will continue to be good, the Indians and Tigers are improving, and the White Sox are …mmmm… the White Sox. While I didn't count on any of the four aforementioned teams being dominating, I thought they could all be .500 or a couple ticks above. The problem is that there are only so many wins to go around in the Central, and I don't know how the Central teams will fare outside the division. The Royals aren't cooperating by actually winning a game, so can the Central actually support 4 teams with winning-ish records?
The chart below shows how the AL Central teams fared against each division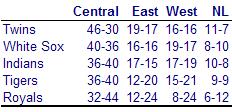 The Twins dominated a weak division, but were basically a .500 team outside the division. The White Sox and Indians fared similarly outside the division, but weren't able to match the Twins success against their rivals. The Tigers managed to put up a .473 winning percentage in the Central, but only .418 outside. Even the Royals who bolstered a lot of teams' records across the league managed to not be awful in the Central.
So are the teams records in the Central representative of their talent relative to the rest of the league? And more importantly, has the talent in the Central improved relative to the rest of the league so that they can improve their extra-divisional records?
In terms of player movement, I don't see a significant surge of talent into the Central. The Tigers picked up Percival from the West and the Indians got Millwood from the NL. The White Sox exchanged players, but I'm not sure that they are better (Dye, Podsednik in, Carlos Lee out). Corey Koskie left for the East, but Boone came into the Central. If there is additional talent from player movement, it isn't substantial.
For the Central to be substantially better relative to the league this year, it has to come from player development within (kind of a running theme huh?). It's Jeremy Bonderman, Morneau and Mauer, Martinez and Perralta. If the Central is going to have 4 winning teams, it is the development of these players that is going to swing the balance.